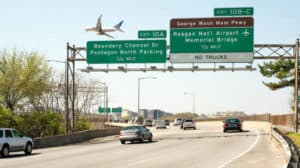 Motorists will soon see new warning signs when they travel on stretches of Interstate 81 and Interstate 95 in Virginia.
The Virginia Department of Transportation (VDOT) designed the signs to remind drivers that traveling even 10 miles per hour (mph) over the speed limit in a posted 70 mph zone can lead to a reckless driving charge.
Virginia law defines reckless driving as going 20 mph over the posted speed limit or traveling more than 80 mph.
The VDOT signs will appear along sections of I-81 and I-95 that have the highest number of people traveling 80 mph or faster or which have the greatest number of traffic crashes, according to WTVR.com.
Dangers of Speeding and Reckless Driving
We live in a society where everybody seems to be in a rush. Every day, we see drivers who try to travel as fast as they can  in a bid to reach their destination as quickly as possible
Unfortunately, when you drive 80 mph or faster, you run the risk of getting into a serious or deadly traffic accident. The risk increases for many reasons, including:
You cannot react on time to avoid hazards and obstructions.
Even if you timely respond to a hazard and apply your brakes, you cannot stop on time when you are traveling at 80 mph or faster.
If you suddenly hit the brakes or turn the steering wheel when the car is traveling at an excessive speed, it can cause you to lose control of your car and crash. This is especially true if the roads is slick with rain, ice or snow.
The VDOT hopes that, by reminding people of the criminal penalties associated with a conviction for reckless driving – as WTVR.com notes, those penalties can range from a $250 fine to jail – they will be more inclined to reduce their speed and travel safely.
What Can You Do After Being Hit by a Speeding Driver?
Unfortunately, despite the VDOT's efforts, people will likely continue to travel dangerously fast on Virginia's interstate routes.
When they do so, they make a deliberate decision to drive recklessly with no regard for the safety of themselves and others on the road.
If you or a loved one has been injured or killed by a speeding or reckless driver, you should take immediate legal action. You may be eligible to pursue compensation for all of the physical, emotional and financial harm you have suffered.
You can trust the experienced and compassionate Richmond Speeding Ticket Lawyers of Marks & Harrison to get to work right away on pursuing your claim and making sure your legal rights are fully protected at each stage in your case.
For more than 100 years, we have stood up for accident victims and their families throughout Virginia. We now feature nine offices located throughout the state.
Contact us today and receive a free  and confidential consultation about your case. We will charge no costs or fees unless we secure a financial recovery for you.