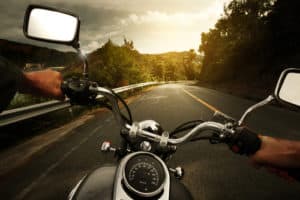 There are four basic factors to consider to ensure your ride is less likely to end in a motorcycle accident: your bike, your protective gear, your visibility and how you ride.
Make sure you are a safe rider. Follow these rules for the road:
Maintain your Motorcycle.
Check your bike before each ride. The Motorcycle Safety Foundation says to keep the acronym T-CLOCS in mind. It stands for:

Tires and wheels. Check tire tread; air pressure; wheel spokes, cast, rims, bearings and seals; brake function; and the condition of pads and discs.

Check handlebars, throttle response, levers and pedals, cables and hoses.

Lights and electronics. Check your battery, headlamp, tail / brake lamp, turn signals, switches, mirrors, lenses and reflectors, wiring.

Oil and other fluids. Check levels and for the presence of leaks in engine oil; gear oil, shaft drive; hydraulic fluid; coolant; fuel.

Check the frame, suspension, chain or belt, fasteners.

Side stand. Check the center stand and side stand for cracks and bends and to ensure springs create the proper tension.
Dress to Ride.
Your best protection against injury in case of a motorcycle crash is protective gear you wear. Proper protective gear for every motorcycle ride, no matter how long or short, includes:

Federal Motor Vehicle Safety Standard (FMVSS) 218 compliant helmet.

Heavy-duty jacket and pants, or a riding suit. Its components may be made of leather or abrasion-resistant man-made fabric, such as Cordura, Kevlar or ballistic nylon.

Riding boots, which cover the ankles.

Gloves.

Goggles or a helmet-attached face shield.

Hearing protection.
Increase your visibility.
Too many motorists say "I never saw him!" after a motorcycle accident. Don't let it happen to you. The MSF says to pretend you are invisible. To make yourself stand out:

Wear brightly colored helmet and clothing.

Always burn your headlamp.

Make sure your bike is equipped additional working lights and reflectors.

Stay out of motorists' blind spots. Avoid sharing lanes with other vehicles.

Flash your brake lights when slowing or stopping.

Ride in groups – in staggered formation – when possible.
Ride safely.
Being safe while operating a motorcycle requires constant attention to what you and others are doing. You cannot be distracted or impaired and be safe. As you ride be sure to:

Follow the rules of the road. Obey speed limits and all traffic signals, and use hand signals for turning and slowing as well as your motorcycle's turn signals and brake light.

Scan ahead. Constantly look about 12 seconds ahead of your bike to identify hazards and other motorists' or riders' intentions.

Maintain a cushion. Keep a distance from other vehicles while following, being followed, passing and being passed.

Reduce speed and increase distances at night, during inclement weather, and when carrying a passenger or cargo.
If you have not already done so, consider taking a motorcycle operator's course sponsored by the Commonwealth of Virginia. Classes are designed for beginning riders and experienced riders, and are taught by certified motorcycle safety instructors. They are offered at community colleges and other locations throughout the state.