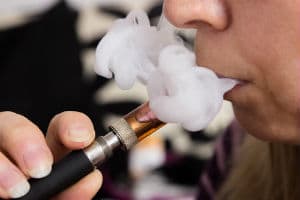 Many former cigarette smokers in Richmond and throughout Virginia have turned to using vape pens as an alternative to smoking.
However, the users of these electronic cigarettes may suffer severe personal injuries if a defect causes a device they are puffing on to explode.
In fact, according to a recent article in Wired Magazine, "some pretty gruesome reports are starting to pile up."
Use of E-Cigarettes Is Rising
Electronic cigarettes are known by several different names, including vape pens, e-cigarettes and e-cigs.
According to a report from the consumer information website, Info-Electronic-Cigarette.com, millions of Americans currently uses these devices. The e-cigarette industry reportedly tops more than $1 billion in sales each year.
They were introduced into the market relatively recently — less than a decade ago in 2007 — and they have, reportedly, "been gaining in popularity at breakneck speeds."
According to a report from the Centers for Disease Control and Prevention (CDC), around 2.4 million middle and high school students have identified themselves as e-cigarette users, which is a highly disturbing trend.
Vape pens are electronic devices. They are made up of a cartridge or a tank (depending on whether you have a refillable model), an atomizer (which heats the liquid) and a battery.
A publication from the U.S. Fire Administration (USFA) suggests that the batteries are the most likely source of the explosions, and that most of these accidents happen while the e-cigarette is charging (about 80 percent).
At the same time, nearly 10 percent of those reporting injuries got hurt while the e-cigarette was in use, according to the USFA.
Out of those fires that happened while the device was charging, about 52 percent spread to cause minor damage, while more than 30 percent resulted in "moderate fire spread," the USFA reports.
Reports of Serious Injuries Caused By Exploding Electronic Cigarettes
Wired Magazine describes several instances of serious and potentially life-threatening harm involving use of e-cigarettes.
For instance, Wired reports on one incident in which a man sustained injuries that included a broken neck, shattered teeth, burns and facial fractures after the man's electronic cigarette exploded.
Additionally, Wired reports that teens in different regions of the country have lost teeth and have sustained serious burn injuries while using these devices.
Inside Edition recently reported that a 21-year-old e-cigarette user sustained injuries that left him in a coma after he attempted to power up his e-cigarette.
Describing the exploding electronic cigarette, the victim explained that "it went like a pipe bomb," leaving him with life-threatening burns to his face, throat and lungs.
Unfortunately, as consumers continue to buy and use e-cigarettes, similar injuries may continue to occur.
Injured by an E-Cigarette Defect? Our Lawyers Can Help You
When dangerous products cause serious injuries, consumers have the right to seek just compensation.
If you or someone you love recently suffered injuries because of an exploding electronic cigarette, you should learn more about your legal rights and options.
An experienced Richmond personal injury lawyer can speak with you today. Contact Marks & Harrison for a free consultation.