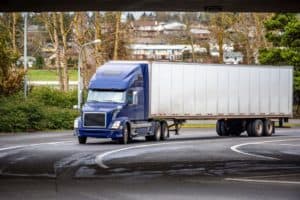 Interstate 81 is an important stretch of road in Virginia. It serves as the most convenient interstate route for a high number of travelers across the state. An estimated 50,000 vehicles travel on I-81 each day through Virginia, with about 40 percent of them being large trucks, Make81safe.org reports. Nearly 50 percent of the state's value of goods are transported along the corridor, and it runs through 21 cities and towns, according to the Virginia Department of Transportation (VDOT). Also, I-81 runs parallel to the Blue Ridge Parkway, a popular route for sightseers throughout the year.
However, at Marks & Harrison, we have also seen how dangerous I-81 can be. The interstate is known for its tight curves, which can be difficult to navigate when traffic congestion or inclement weather arises. Drivers often encounter congestion on I-81 due to construction zones or accidents. From the late fall to early spring, snow and ice are frequent hazards which drivers can face on the interstate.
Driving on I-81 can be particularly dangerous when you are a driver in a standard passenger car who must share the road with monster-sized tractor-trailers. According to VDOT, more than 2,000 traffic crashes occur on I-81 each year. Out of those crashes, 26 percent are trucking accidents.
Here, we have compiled safety tips to help prevent crashes on this stretch of the interstate. If you have any questions, or if want to discuss the specific facts of your case, contact us for a free consultation. We are one of the oldest and largest personal injury law firms in Virginia, and we can put our experience and resources to work for you right away.
How to Be Careful Around Tractor-Trailers on I-81 in Virginia
As we mentioned, tractor-trailers account for nearly half of the traffic on I-81. These large vehicles are long, and they are heavy even when they are not fully loaded with cargo. Big trucks have lots of blind spots, and they are prone to jackknife accidents and rollover accidents on the curves and steep grades of I-81.
When navigating this interstate, you should always be sure to drive at or below the speed limit. You may need to go even slower depending on weather and road conditions, traffic, construction and other potential obstacles. This is not the time to speed. Many studies have been done regarding speeding in general, and most find that you save mere seconds. Those seconds are not worth the risk of traffic violations or risking the lives of other people. You should be aware of your speed in all driving situations, but please proceed with even more caution while on I-81.
Here are some things you can do exercise caution around 18-wheelers:
Stay out of truck blind spots.
Only pass trucks on the left.
Do not follow trucks too closely.
Do not drive aggressively or recklessly around trucks.
If you encounter an aggressive truck driver, let the driver pass and stay away from the truck.
Stay alert while you are driving.
Be aware of the traffic and conditions around you.
Minimize the distractions in your car, including activating drive mode functions on your smartphone.
Report dangerous truck drivers to law enforcement.
Of course, even if you take every reasonable precaution to avoid an accident, you cannot control how others behave. You may still find yourself injured in a serious truck accident or other type of auto accident. If this happens, do not hesitate to contact a lawyer for help with holding the at-fault party financially responsible.
What To Do If You Are Injured in an I-81 Trucking Accident
At Marks & Harrison, we know that even the most careful drivers are sometimes injured in accidents which they cannot avoid. If you have been injured in an accident with a tractor-trailer, you may be entitled to compensation for your injuries, property damage and other expenses. Our experienced truck accident attorneys will review your case at no cost to you, and we can advise you how to proceed with your claim.
To assist with your claim, here are a few steps you can take:
Get medical attention as soon as possible and follow up on all medical care instructions.
Get names and contact information of witnesses, if possible.
Take pictures of the accident scene, including all vehicles involved in the accident, brake marks, mile markers, exit signs and surrounding debris.
Get a copy of your police accident report, which typically is available in the days after the crash occurs.
Do not talk with the trucking company, insurance representatives or other lawyers until you speak first with a lawyer from Marks & Harrison. Never give a recorded statement or accept a settlement offer until you have reviewed your case with one of our attorneys.
At Marks & Harrison, we are here to help you with all aspects of your tractor-trailer accident claim. So, do not panic if you were not able to complete all of the above steps. Simply call us, and we can get things on track for you.
Truck accident cases can be difficult to handle. They may involve multiple liable parties, and all of them will want to avoid responsibility for the accident. The truck accident lawyers at Marks & Harrison know how to deal with these situations, including conducting thorough, independent investigations, tracking down all of the negligent parties, calculating damages and dealing with insurance companies. Let our legal team take care of everything so you can focus on your recovery.
Contact a Virginia Truck Accident Lawyer
Do not waste any time if you have been injured in a truck accident on I-81. Contact Marks & Harrison for a no-obligation, free consultation today. We were voted "Best Law Firm" by the readers of the Richmond Times Dispatch, and we can get things moving for your case fast. We will quickly let you know if you are eligible to have your medical expenses, lost wages, and other damages covered in a claim. With offices conveniently located throughout Virginia, including Staunton and Harrisonburg, we can meet with you immediately.