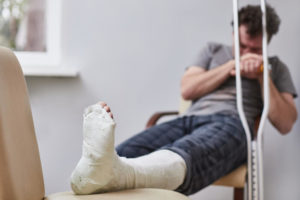 An on-the-job injury can put significant stress and strain on your life, from physical pain to major financial expenses. If you lose your job on top of all that, it can be an extremely frustrating experience. It doesn't seem fair, right? How is it okay for your employer to let you go when you're already dealing with a work-related injury?
The Virginia workers' compensation lawyers at Marks & Harrison are here to stand up for your rights and make sure you're getting the benefits you deserve after a workplace accident. We've been helping people in Virginia with personal injury claims and workers' compensation issues for more than 110 years. Our firm is one of the largest personal injury firms in the state, including 26 attorneys and more than 100 support personnel. Those resources have helped us recover millions in compensation on behalf of our clients.
Ready to speak to an experienced workers' compensation attorney about your case? Get a free initial consultation by calling one of our 10 offices throughout Virginia or visiting our contact page.
Can I Be Fired After Being Injured on the Job?
Virginia, like most states, is an at-will employment state. That means you can be fired for almost any reason that isn't solely based on discrimination of some sort. In fact, your employer doesn't even need a reason to fire you. Unfortunately, this means you can be fired after sustaining an on-the-job injury.
That statement comes with an important caveat: Your employer cannot fire you if their sole reason is retaliation for an on-the-job injury or because you filed a workers' compensation claim. All employees have the right to file for workers' compensation benefits after a work-related injury, regardless of who was at fault for the injury.
If you are fired after being injured at work, your employer will have to show they fired you for some reason other than your injury. While employers do have broad discretion to hire and fire workers at any time, a Virginia workers' compensation lawyer can help if you feel you were fired because of a work-related injury.
Many employers try to pressure workers not to file a claim or suggest workers use their own health insurance to cover their medical treatment for work-related injuries, even though the employer's workers' compensation plan may be responsible for those expenses. Don't let yourself get cheated in that way.
Does Workers' Comp Cover Wrongful Termination?
Worker's compensation benefits are designed to cover your medical costs and a portion of your lost wages due to work-related injuries. That means workers' compensation generally does not cover wrongful termination.
If you believe you were wrongfully fired, you may be able to file a lawsuit against your former employer to recover compensation. An attorney can tell you if you have a wrongful termination case and let you know your options.
Does My Employer Have to Hold My Job While I'm on Workers' Comp?
Your employer does not have to hold your position while you are receiving workers' compensation benefits. Your employer can let you go if your injuries prevent you from doing your job in some way, though generally, they have to wait a while before doing so. That is deeply frustrating for injured employees, but it's an unfortunate reality of the system.
If you are injured on the job and are receiving medical benefits through workers' compensation, those benefits will not end just because you lost your job. Payments will continue until your treating doctor determines that there is no additional treatment which is medically necessary, reasonable and related to your injury.
If you're worried about losing your job after a work-related injury, your best option is to maintain an open dialogue with your employer. Keeping them informed about your progress and providing documentation from your doctors can help demonstrate that you have a legitimate injury and let them know what accommodations are required. That could give you a greater chance of keeping your job.
Not all employers are sympathetic to injured workers. They may try to retaliate against you. If this happens to you, consult with a Virginia workers' compensation lawyer as soon as possible.
What Happens If My Employer Fires Me in Retaliation for Filing a Claim?
Firing an employee in retaliation for filing a workers' compensation claim is illegal under Virginia law. If your employer fires you solely because you make a workers' comp claim, you can pursue legal action against them.
To avoid the appearance of doing anything illegal, employers will sometimes demote an employee instead of firing them outright after the employee makes a workers' compensation claim. That is also illegal, as state law protects injured workers from being demoted or discriminated against due to making a workers' compensation claim.
If you were fired or demoted after filing a claim for workers' compensation, you should speak to an attorney as soon as possible. While you may not be able to get your job back, a lawyer can review the facts of your case to determine if you've been wrongly terminated. Our workers' compensation lawyers can also assist in ensuring that you continue to receive any benefits you are eligible for following termination.
Get Help from a Virginia Workers' Comp Attorney
The rules on workers' compensation in Virginia are complicated. Let a skilled attorney protect your best interests. Our Virginia workers' compensation attorneys at Marks & Harrison are ready to review your case, see if you're getting the benefits you're entitled to, and inform you if you may have a lawsuit against your employer. If the evidence shows you were wrongfully terminated, we can help you file a wrongful termination claim against your employer to hold them accountable.
Our team is ready to speak with you at your earliest convenience. Get a free case review by calling one of our 10 locations around Virginia or visiting our contact page.