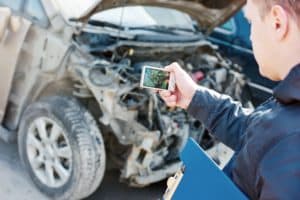 In the aftermath of a car accident, you can take several important steps on your own to protect your right to recover compensation for your medical expenses, lost income, pain, suffering and more. Taking photos of the accident scene and your injuries is one of those crucial steps. These photos can capture crucial details about the crash that you may later forget. They can also provide clues about how and why your accident happened and show the type of harm you have suffered. Here are five tips for taking the best car accident photos.
For these reasons, you should try to get photos immediately after a crash. If possible, you can take them on your own by using a camera or your cell phone. If your condition prevents you from being able to get photos, then you should ask a family member, friend or someone else at the crash scene to take the photos for you.
Here are some tips to help you get the most effective photos:
Get a Ton of Photos

You will increase your chances of getting quality photos that you can use to establish your claim if you take as many photos as you can. You should try to take multiple shots of everything — and from different angles, too. Make sure to get wide shots and closeups. Some photos will capture the light and images differently and may reveal details that other photos do not. Get the details. Get the big picture. Get it all.

Photograph EverythingEven though a car accident scene may be chaotic, you should try to focus and get the following photos:

External and internal damage of the cars such as dents, shattered windows, deployed airbags and other damage
Skid marks and debris such as broken glass and shorn car part
Additional property damage such as damage to road signs, guardrails, the shoulder of the road, trees, shrubs or other landscaping
Injuries that you, your passengers and/or bystanders suffered
EMTs or paramedics working on injuries
Photos which show where the accident happened such as at an intersection, in a parking lot or along a stretch of highway or interstate (the images should show the configuration of the road as well as any nearby traffic signals)
Roadway conditions that could have contributed to the crash such as broken or rutted pavement or overgrown shrubbery that obscured a driver's view
Relevant weather conditions such as bright sun, clouds, rain or snow.

Document Relevant FactsYou should get photos of each car's license plate and photos that show the make and model of each car. You can also take photos instead of writing down information. For instance, you can get shots of the other driver's license and insurance information. Additionally, you should take photos of the police and other first responders who assist you in the aftermath of the crash. Be sure to get the law enforcement officers' badges in the photos.
Shoot VideoIf the other driver appears to be impaired, you can get video of how he or she interacts with first responders or others. The video may show the driver walking unsteadily, or it may capture the driver's slurred speech.

You can also ask witnesses to give a quick statement on video. Ask witnesses to state their name and contact information on the video and, if they are willing, to briefly describe what they saw or heard. If a witness is hesitant about giving a statement on video, you should explain to the witness that it is easier and faster to use video rather than writing it down.

Video is also good for panning a large accident scene from a few yards back. However, video consumes battery power faster than still shots. So, you should use it sparingly.

Do – and Don't – Worry About Quality

The photos that you take do not have to be award-winning shots. Still, they should be clear enough that you can use them in your case. For instance, the photos you take at the accident scene may be presented to the insurance company during settlement negotiations, or they could serve as exhibits at trial.Take your time framing each shot. Again, take multiple pictures of everything you photograph. Shoot from three distances:

Closeup (about 1-3 feet away)
Mid-range (about 10-15 feet away)
Distance (roughly 20 feet or more away).For wider shots, you should try to get a landmark in the frame which indicates where the photo was taken. Keep sunlight, darkness and/or weather conditions in mind and how they may affect your photos. If you are using a camera (and not your phone), make sure the time and date stamp is turned on. (A smartphone has automated time and date metadata.)

Soon after you are home or otherwise settled following an accident, review your photos and video. You may be able to go back to the accident scene with a better camera to get better photos if you had only a cell phone before. You can still photograph the overall scene and any part of the roadway that may have contributed to the crash. During "business hours," you might even catch a work crew correcting relevant problems that were present when the car accident happened.
Let Our Virginia Car Accident Attorneys Help You
Another step to take quickly after a car accident is to contact an experienced personal injury lawyer to assist you with your claim. At Marks & Harrison, we can respond promptly to help you gather additional evidence of your accident, and we can start work right away on pursuing your claim for just compensation. We work from 10 offices located throughout Virginia, including Richmond. Call or submit our online form today to set up a free, immediate legal consultation.