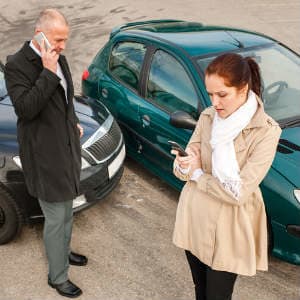 The Insurance Research Council reports that one out of every eight drivers in America lacks car insurance. In Virginia, an estimated 10 percent of Virginia drivers are uninsured.
Even drivers who have insurance may carry only the minimum amount required by law. These drivers are considered to be "underinsured." The driver's insurance typically will not cover all of the losses suffered by a victim in a car accident (especially when one considers how much medical treatment costs these days).
Being struck and injured by an uninsured or underinsured motorist can pose significant problems for you. How will you able to recover compensation for your injuries if the individual does not have adequate insurance coverage – or lacks any insurance coverage at all?
What Are Auto Insurance Requirements in Virginia?
To register your vehicle in Virginia, you must have an adequate automobile insurance policy or pay a fee in order to drive without insurance, according to the Virginia Department of Motor Vehicles.
A motorist wanting to carry adequate auto insurance in Virginia must have a policy with the following minimum limits:
$25,000 for the bodily injury or death of one person
$50,000 for the bodily injury or death of two or more people
$20,000 for damage to property.
Alternatively, motorists may pay the yearly Uninsured Motor Vehicle (UMV) fee. Payment of this fee exempts a motorist from having to carry an auto insurance policy on his or her vehicle. However, the motorist will be personally responsible for any damages or injuries he or she causes in a crash.
While not required, motorists who purchase an auto insurance policy can also purchase uninsured motorist or underinsured motorist coverage.
You do have to carry uninsured motorist insurance of at least the state minimum. You can reduce the amount in writing, but it has to be at least the state minimum, which is $25,000.
Uninsured motorist (UM) coverage provides benefits to the insured motorist in the event an uninsured motorist causes an accident. The minimum policy limits mirror those for liability insurance.
Underinsured motorist (UIM) coverage provides benefits if the individual responsible for the crash does not have an auto insurance policy that covers all of your losses.
For example, if the individual who caused your accident only has $25,000 in bodily injury coverage, and you have suffered $35,000 in damages, the underinsured motorist coverage would step in and pay the difference between that $25,000 and the amount of your injuries, or $10,000. UIM coverage is typically available for an additional premium.
Recovering Compensation After a Car Accident
In most cases, an injured motorist in Virginia seeks compensation for his or her damages by filing a claim with the at-fault driver's auto insurance carrier.
When the other motorist is determined to be at fault, his or her insurance carrier should pay you, the injured motorist, up to the limits of that driver's policy.
For example, suppose you are injured when you are struck by another motorist. That motorist's auto insurance policy provides for up to $25,000 in compensation for bodily injury. If you suffer injuries totaling $25,000 or less, and that driver is determined to be at fault, then that insurance company should pay your claim. That would be the end of your case.
However, if the other driver's policy limits are not sufficient to cover your losses, or the driver is uninsured, your options would be to:
File a claim through your own UM/UIM policy – If you have UM coverage or UIM coverage, you can file a claim with your own insurance company. Like other types of auto insurance coverage, UM/UIM will pay up to the policy limits you have purchased.
Turn to other insurance coverage – You may have purchased medical payments, or "medpay" coverage, which can pay for at least a portion of your medical bills caused by an accident. You may also have collision coverage that will pay for damage to your vehicle – regardless of who is at fault for the accident.
File a claim against a responsible third party – In addition to the driver who hit you, other parties may be liable for your bodily injury and property damage. For example, the uninsured / underinsured driver who caused your crash may have been acting on behalf of his or her employer at the time. The employer could be held liable for any negligent acts of its employee that occurred within the scope and course of the employment. So, you could file a claim through the employer's liability coverage.
Seeking a recovery through the driver's personal assets – If no other source of compensation is available, it may be necessary to bring a lawsuit that seeks a recovery directly from the at-fault driver's personal assets. It is highly likely that the driver's assets will not be sufficient to cover your losses. Still, having a judgment in your favor and against a driver can allow you to intercept certain assets of which the driver may come into possession (such as inheritances, lottery winnings and/or tax refunds).
Get Help from Our Richmond Car Accident Attorneys
At Marks & Harrison, we are committed to helping injured motorists and passengers in Richmond and throughout Virginia to pursue just compensation after a car accident.
Our experienced attorneys will carefully review the facts of your case as well as all insurance policies that may be involved. We will fight vigorously and pursue full and fair compensation for your car crash injuries and all damages you may be entitled to receive. You can rely on us to track down all sources of compensation.
Contact us today to discuss your case in a free consultation. In addition to our Richmond office, we have offices in eight other locations in Virginia.