The aftermath of a car accident can be one of the most stressful and scary periods of your life. This is especially true if you have significant injuries that need immediate and ongoing medical attention. In this state, you can easily make costly mistakes.
For example, it is easy to think that exchanging your insurance information with the other parties involved in the accident will be enough. You assume that the other driver's insurance company will soon be in touch with you. However, you also should report your accident to your own insurer as soon as possible. If you fail to report your accident, it could cost you compensation down the road.
Report Your Car Accident to Your Insurer As Early As Possible
If another driver caused your car accident, you should be able to file a claim for compensation through that driver's auto insurance liability coverage. This insurance should cover your medical bills, lost income and non-economic damages such as pain and suffering – but only up to that policy's limits. If the other driver has no insurance or carries insurance that does not fully cover your losses, then you may have to turn to your own auto insurance policy for funds.
Because you want to protect your right to file a claim with your own auto insurance provider, you should report your accident as early as possible. This is especially true if your auto insurance company requires its insured drivers to report accidents within a certain period of time after the crash occurs. You don't want to give the insurer any excuse to deny your claim.
Additionally, you may be unsure of what type of coverage you have. If you report your accident, your insurance company may review the different types with you. For example, you may have coverage that will pay for towing, car rental and car repairs – regardless of who was at fault for the accident. You may also have uninsured motorist coverage and/or underinsured motorist (UM/UIM) coverage.
Of course, if you are hesitant about calling your insurance company or want an independent review of your available insurance coverage, you should not wait to get help from an experienced car accident lawyer. At Marks & Harrison, for instance, we can deal with your insurer on your behalf, conduct a careful examination of the policy that you have purchased and explain the different types of coverage that should provide funds to you during this difficult time.
What Should You Tell Your Insurance Company?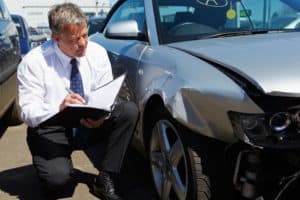 The process of talking with your auto insurance company can be tricky. Even though you have paid your premiums, the insurance company will look for ways to pay you as little as possible and, in turn, minimize its losses. So, anything you say to the insurance company could – and likely will – be used against you.
First, you need to be careful about what you communicate. You should not accept blame for the accident or assign blame to anyone. Instead, you should stick to the basic facts about the accident. In reality, you will not know who should be held responsible for the crash until there has been a full investigation.
Second, you should decline to give a recorded statement or access to your medical records. An insurer may use the recorded statement to deny your claim or make a lowball settlement offer. Even if you give the insurer a seemingly innocent statement, the insurer may try to take your words out of context. Additionally, the insurer may look at your medical history and contend that your injuries are unrelated to your accident.
Finally, you should never accept a settlement until a lawyer has reviewed your case first. The lawyer can investigate your crash, consult with experts, review your medical records and take other steps to fully calculate your losses and determine what amount you should seek in a settlement offer. If you accept a settlement offer without this information, you could end up costing yourself a lot of money.
Why Should You Avoid Talking to the Other Driver's Insurance Company?
The other driver's insurance company will only have its interests in mind. If the insurer contacts you, then you should be cautious about what you say. The company may record each conversation and use your words against you to deny or minimize your claim. In particular, the insurer will look for ways to blame you for the accident.
You should be especially careful about how much medical information that you disclose to the other driver's insurance company. The company will be very eager to get its hands on this information. You need to keep your medical records confidential. Additionally, you should also decline to accept any settlement offer from the other driver's insurance company until you have reviewed your case with an attorney.
Once you hire a lawyer to handle your car accident case, you can simply refer both your insurance company and the other driver's insurance company to the lawyer. You won't have to speak with any insurance company representatives and, instead, you can focus on your health. You will find that your stress level will go way down.
A Warning About Talking About Your Car Accident Case on Social Media

In addition to being careful about what you say directly to insurance companies after a car accident, you need to be cautious about what you say to them indirectly through your social media activity.
Today, insurance companies often monitor activity on Facebook, Twitter, Instagram and other social media sites to see if they can dig up information about the people who have filed claims. They can take anything you say about your case and try to use it against you. They may also try to use seemingly unrelated material against you. For instance, if you post a photo of yourself at the beach or at a party, the insurance company may use it to suggest that your injuries are not as severe as you claim.
For this reason, you should generally stay away from social media until your case reaches a conclusion. If you cannot resist the urge to use social media, then you should at least switch your settings to private and be wary about accepting new "friends" who are not familiar to you.
Get Help Today from Our Experienced VA Car Accident Lawyers
The car accident attorneys at Marks & Harrison have been fighting on behalf of injured people across Virginia since 1911. We are ready to fight for you. If you or a loved one has been injured in a car accident, contact our experienced attorneys before your reach out to your insurance company. Our attorneys will know how to protect your rights and seek the maximum amount for you.