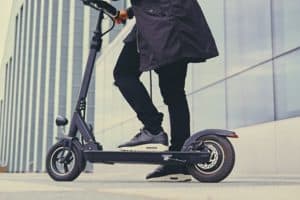 In August 2018, the California-based electric scooter-sharing company, Bird, made a surprise launch in Richmond by scattering its dockless scooters throughout the downtown area. According to news reports, the unannounced scooter drops were a part of the company's "university pop-up tour."
Within a day of the launch, Richmond City officials collected and impounded the scooters until officials could talk with Bird and, perhaps, draft regulations to govern use of the scooters. Despite these efforts, many Bird scooters remain on the City's streets and sidewalks, and scooters from other dockless electric scooter-sharing companies, such as Lime and Spin, may soon join them.
According to The Washington Post, Richmond officials have concerns about the safety of these devices, and they are not alone in these concerns. Cities throughout the U.S. have recently seen a sharp increase in electric scooter-related injuries. While electric scooters may look like toys, they are motorized devices that could cause serious injuries.  Such injuries may occur if a scooter malfunctions or collides with another motorist, bicyclist, or pedestrian. One doctor who shares City officials' concerns told the Post, "It's just a matter of time before someone is killed. I'm absolutely certain of it."
Our Dedication to Helping Electric Scooter Accident Victims
Our personal injury law firm's history traces back more than 100 years. We have seen many transportation trends come and go, including several dangerous ones. Throughout that time, we have stayed consistent in our dedication to protecting the rights of innocent injury victims and their families and pursuing maximum compensation for such victims.
If you recently suffered injury in a Bird scooter accident in Richmond, or any other Virginia city where these devices have appeared, we are here to help you. Contact us today to learn more. We will review your case in a free consultation and discuss all legal options available to you.
How Do Bird Electric Scooters Work?
Bird scooters look similar to the Razor-brand scooters that many kids ride today. However, Bird scooters are motorized and can go as fast as 15 mph. Bird's electric scooter-sharing service operates similarly to bike-share programs, such as RVA Bike Share. Anyone who comes across one of these scooters can unlock one for just $1 by using a phone app.  Once the scooter is unlocked, Bird charges users 20 cents per minute until the app is used to lock it back up.
The scooters must be rented before dusk. Bird hires "chargers" to collect the bikes after dusk to recharge them and then drop them off at "nests." The company also hires field mechanics to inspect, maintain and repair them.
To unlock and operate a Bird scooter, you must be age 18 or older with a valid driver's license. Richmond currently has no regulations that require riders to wear a helmet. The scooters do not come with helmets, but if you pay shipping costs, Bird you will send a free helmet.
Bird's website lists Richmond as well as Arlington, Norfolk and Virginia Beach as Virginia cities where you can find their scooters. The company states on its website that its goal is to "work closely with cities to help make transportation better & more environmentally friendly." However, news reports indicate that the company has launched its electric scooter-sharing service in cities such as Richmond without obtaining permits or even discussing the launch with local officials.
What Are Different Types of Electric Scooter Accidents?
Bird claims that safety is its top priority. However, in all actuality, the safety of these scooters and the injury risks they present have become major concerns. One San Francisco-based doctor told The Washington Post that in one week, his emergency room had seen as many as 10 "severe injuries" involving electric scooters.
Many different types of accidents can happen when people use electric scooters, such as:
Because the program is "dockless," when users leave the scooters strewn on streets and sidewalks, or in or near building entryways and ramps, pedestrians may trip over them or vehicles may hit them.
Riders may suffer injuries if the device malfunctions. For instance, the scooter's accelerator may get stuck, its hand brake may fail or other problems may arise with its tires, handlebars or stem. Such a malfunction may occur due to a design or manufacturing defect or even poor maintenance.
Pedestrians, bicyclists and others may collide with riders who carelessly or recklessly operate the scooters – especially in congested areas like City sidewalks. In some cases, an accident may occur as a result of the operator's inexperience or because he/she is under the influence of drugs or alcohol at the time of the collision.
Riders may suffer severe and potentially fatal injuries if struck by a car, truck or other motor vehicle drivers. Because these scooters are small, dark-colored and less visible than other types of transportation, a driver may fail to see a Bird electric scooter rider.
A dog may become startled by the scooter, chase it and attack the rider. In some instances, dog owners or handlers may fail to put a leash on their dog in violation of a local ordinance designed to prevent such attacks.
A rider may encounter a pothole, uneven sidewalk, patch of gravel or debris that causes him/her to lose control of the scooter and crash.
Who Can Be Liable for a Bird Scooter Accident in Richmond?
If you have suffered injury through no fault of your own while riding a Bird electric scooter or a similar device provided by another scooter-sharing program, or if a scooter rider collides with you, you will want to know if you can seek compensation from the party responsible for the accident. Responsible parties may include:
Manufacturer – Quartz reports that Bird uses scooters made in China by Ninebot, a subsidiary of Xiaomi, the same company that makes Segways.
Scooter-sharing company – Bird's user agreement states that any claims must go through arbitration. However, the enforceability of this forced arbitration clause has yet to be determined.
Charger or mechanic – These parties could potentially be liable for failing to properly charge and/or leave the scooters in safe places or for failing to properly inspect and maintain them.
Scooter rider – The rider may be responsible for failing to operate the scooter in safe, reasonable manner.
Vehicle driver – A vehicle driver who hits a scooter rider  may be liable if his or her negligent driving, such as speeding, aggressive driving, distracted driving or drunk driving, causes him or her to collide with a scooter.
Dog owner or keeper – Under Virginia law, a dog owner or handler may be "strictly liable" if the owner or handler knew, or reasonably should have known, that a dog was dangerous or aggressive and failed to take steps to prevent the dog from attacking. Liability can also be established by showing the owner or keeper violated a local leash law or ordinance.
Business or government agency – If an electric scooter accident occurs because of dangerous property conditions, the company or government agency in control of the property may be held liable in a premises liability claim.
At Marks & Harrison, we have a skilled and experienced team of investigators. We also regularly consult with experts in areas such as engineering and accident reconstruction. These experts can get to work right away investigating your Bird electric scooter accident to determine how it occurred and who should be held accountable for it.
What Damages Can You Seek in a Bird Scooter Accident Lawsuit?
Like bikes and motorcycles, electric scooters, lack any structural protection and have no seat belts or air bags. As a result, a scooter rider who is involved in an accident can suffer serious injuries from the impact and/or from being thrown from the device. If the rider does not wear a helmet – and in reality, many riders do not – the risk of catastrophic injuries only increases. Those potential injuries include:
Traumatic brain injuries
Back and spinal cord injuries
Soft tissue injuries such as torn muscles or ligaments
Severe or multiple fractures
Deep cuts and lacerations
Friction burns (or "road rash")
Emotional trauma (or PTSD)
Marks & Harrison will review your medical records, discuss your injuries with medical experts and take other steps to determine the nature and extent of the physical, emotional and financial harm you have suffered. You may be eligible to recover damages that include:
Past and future medical expenses
Lost income and diminished future earning capacity
Pain and suffering
Emotional distress
Punitive damages
Wrongful death damages (if your loved one dies in an electric scooter incident)
We will aggressively pursue a settlement that fully and fairly compensates you. If necessary, our talented litigators will be ready to fight for you at trial.
Contact Our Richmond Bird Scooter Accident Attorneys Today
If you or a loved one has suffered injuries in a Bird electric scooter accident in Richmond or elsewhere in Virginia through no fault of your own, you can count on Marks & Harrison to pursue the compensation you deserve. We will protect your rights and explore every legal option available to you. Call or reach us online today to schedule a free consultation through any of our 10 offices located throughout Virginia.