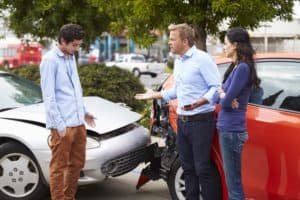 If you were recently involved in a car accident in Virginia, then you already know how frightening and confusing it can be. Unfortunately, for some people, the situation gets even more stressful. They discover that the driver who caused their crash does not have any insurance to pay for their car repair, medical bills and other losses.
This situation happens more often than you might imagine. In fact, the Insurance Information Institute estimates that around 10 percent of Virginia drivers lack auto insurance liability coverage. This insurance pays for the property damage and bodily injury that a driver causes another person to suffer in an accident. If another person causes your accident, you typically turn to this insurance policy first to recover any damages you are due.
Why Do Some Drivers Lack Liability Insurance?
In Virginia, drivers may put their cars on the road  without insurance for many different reasons. For instance, in our state, the law does not require drivers to have insurance in order to register their car. Instead, you can pay a $500 uninsured motorist fee. Of course, paying the fee only makes it legal to drive your car. It provides no coverage to yourself or others in a crash.
If you do carry auto insurance coverage in Virginia, then you must have liability insurance in the following minimum amounts:
$25,000 for bodily injury (per person)
$50,000 for bodily injury (per accident)
$20,000 for property damage (per accident).
Some people may initially have coverage in those required minimum amounts. However, because they can no longer afford their premiums, they let their coverage lapse. The person may have lost a job, for instance, or experienced a sudden, expensive health care emergency.
Yet, others may lack auto insurance in Virginia because they simply cannot qualify for coverage. For example, a person may have lost his or her driver's license due to a DWI conviction or because the person racked up too driving record and insurance points due to traffic violations. (If you don't have a driver's license, then you should not be on the road – period. You can't even get away with paying the $500 uninsured motorist fee.)
Possible Options After a Crash with an Uninsured Driver in VA
Regardless of why the other driver involved in your crash lacks insurance, the bottom line is that you could potentially end up being on the hook for your vehicle damage, medical bills and other costs. But all hope is not lost. Here are a few options you may pursue if you get into an accident with an uninsured driver in Virginia:
File an uninsured motorist (UM) claim.
All auto insurance policies that insurance companies issue in Virginia must include uninsured motorist (UM) coverage in at least the same minimum amounts as the driver's liability coverage. Unless you opted out of this coverage in writing, you should have it. So, if you get into a crash with an uninsured driver, you may be able to turn to this policy to cover your damages.
If you find out the other driver is uninsured, notify your insurance company as soon as possible and seek help from an experienced car accident attorney. At Marks & Harrison, for instance, we will deal with your insurance company on your behalf and present a solid claim for damages. If a dispute about an issue arises, we can also take your case to trial and fight for what you are owed.
Keep in mind: Even though you may have paid your premiums for an extended period of time, your own auto insurance provider may challenge your claim. So, it will be important to have an advocate on your side.
Additionally, your attorney can review your insurance policy and see if you have purchased other types of coverage. For instance, you may have medical payments (medpay) coverage or collision coverage. (If the driver has insurance, but it falls shy of covering your damages, you may be able to turn to your own underinsured motorist (UIM) coverage.)
Explore other potentially liable parties.
Depending on the details of your accident, other parties may be liable for the damages that an uninsured driver causes. For instance, the uninsured  may have been driving a company vehicle or otherwise driving for work at the time of the crash. If so, the driver's employer may be liable. In some cases, an auto manufacturer or a government agency could be responsible.
However, you should know that in Virginia – unlike in many other states – a restaurant or bartender that overserves a customer, effectively turning him or her into a drunk driver, cannot be held liable in a car accident claim. Virginia is among eight states that do not allow car accident victims to sue establishments that serve drunk drivers in what are commonly called "dram shop" lawsuits.
At Marks & Harrison, we will identify every potentially liable "third party" as we investigate your case, and we will turn to all sources of available compensation in order to pursue the maximum amount for you.
Seek a recovery from the uninsured driver's personal assets.
If an uninsured driver injures you in Virginia, you can also seek compensation from the driver personally in court. However, in reality, most drivers that cannot afford insurance also lack significant personal assets. If the driver has no means to pay you, you will have little chance to recover enough to fully compensate you for your losses. However, you should still research this option and every other option as you move forward.
Were You Involved in a Hit-and-Run Accident?
A "hit and run" accident is one in which the driver that caused the accident leaves the scene before police arrive. Even though it is illegal to flee the scene of an accident in Virginia, many motorists leave because they are impaired, lack a driver's license or have other reasons to want to avoid the police. Although this may seem frustrating, you may be able to file a claim for your losses.
If the driver that caused your accident leaves the scene, try to get the license plate number if you can. Then, call the police immediately. Do not attempt to chase down the fleeing driver.
If police are unable to identify the hit-and-run driver, you should be able to file an uninsured motorist claim with your insurance company. If your insurer denies your claim based on a lack of evidence, then you should reach out to a car accident attorney for help as soon as possible. Hit-and-run claims can be tricky, but an experienced lawyer can help you.
Did an Uninsured Driver Cause Your Car Accident? Get Legal Help Today
If an uninsured driver caused your car accident, the legal team at Marks & Harrison will know what to do. Our experienced attorneys, investigators and staff members can get to work on your case right away and pursue all compensation you are due. Contact us today to learn more in a free consultation through one of our nine offices located throughout Virginia.