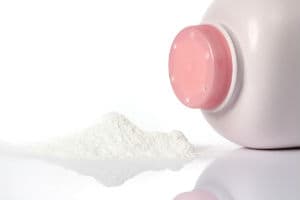 A jury in a Missouri state court recently returned a $72 million verdict in favor of the family of a woman who claimed that she suffered ovarian cancer due to her decades-long use of Johnson & Johnson talc-based products for feminine hygiene.
In a verdict reached on February 22, 2016, following a three-week trial, the St. Louis Circuit Court jury found the healthcare products giant, Johnson & Johnson, liable for negligence, fraud and conspiracy, Reuters reports.
The jury awarded the woman's family $10 million in actual damages and $72 million in punitive damages, marking the first time a jury in the U.S. has awarded damages to a plaintiff in talc litigation.
In recent years, thousands of lawsuits have been brought by women and their families across the country against the manufacturers of talc-based products.
The verdict in this case could play an important role in the course of future litigation and/or settlement discussions.
Concerns About Talc's Link to Ovarian Cancer Surfaced Years Ago
Talc is a mineral comprised of oxygen, silicon and magnesium. Because of its moisture-absorbing qualities, talc has been used for many years in products such as Johnson & Johnson's Baby Powder and Shower to Shower Body Powder products. Many women use these products for feminine hygiene.
However, since the early 1970s, at least "20 epidemiological studies have found increased rates of ovarian cancer risk for women using talc for hygiene purposes," Salon.com reports.
In a study published in 2008 in the journal, Cancer Epidemiology, Biomarkers & Prevention, researchers who analyzed 16 epidemiological studies found a roughly 30 percent higher risk of ovarian cancer among women with "regular genital exposure to talc."
Many lawsuits have been filed by women or their surviving family members, alleging that manufacturers such as Johnson & Johnson have known about the potential risk of ovarian cancer and the use of talc for feminine hygiene – but failed to warn consumers about this risk.
One of those lawsuits resulted in an unusual verdict in October 2013 in a federal court in South Dakota. Although the jury found that a woman's use of Johnson & Johnson talc-based products for feminine hygiene factored into her development of ovarian cancer, the jury awarded no damages, according to Reuters.
Damaging Johnson & Johnson Internal Memo Revealed During Trial
One legal expert told The New York Times that the St. Louis verdict "doesn't bode well for Johnson & Johnson," especially when one considers that "the jury was distressed by the company's conduct."
The initial plaintiff in the St. Louis case was a woman who claimed that she used Johnson & Johnson talcum powder products for feminine hygiene for more than three decades before she was diagnosed with ovarian cancer. She died in October 2015 at age 62. Her son maintained the lawsuit as the plaintiff.
During the trial, the plaintiff's attorneys produced an internal memo from September 1997 that was written by a Johnson & Johnson medical consultant, according to the Times.
The consultant voiced concern that denying the risks between the hygienic use of talc-based products and ovarian cancer was no different than tobacco companies denying the link between cigarettes and cancer. In other words, it amounted to "denying the obvious in the face of all evidence to the contrary," the consultant said.
One juror told Reuters that he was bothered by the fact that Johnson & Johnson appeared to be more interested in defending itself in litigation than investigating the potential cancer link.
What's Next in Talc Litigation?
Legal experts told both Reuters and the Times that they expect Johnson & Johnson will appeal this most recent verdict and continue to defend against talc product liability litigation.
A company spokesperson released a statement, reported by both media outlets, stating that Johnson & Johnson believes "the safety of cosmetic talc is supported by decades of scientific evidence."
At Marks & Harrison, our lawyers will continue to review claims by women and their families in Richmond and throughout Virginia who believe they have been impacted by ovarian cancer linked to the hygienic use of talc.
We believe it is important to have a law firm with skill, experience and resources by your side to protect your rights and seek the compensation you are due. Our law firm will continue to monitor new developments in talc litigation and report on them on our blog.
For more information or to schedule a free consultation, please contact us today.