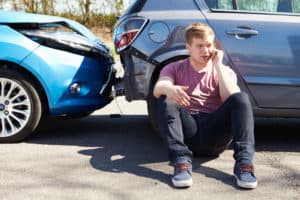 Teenagers are more likely than older drivers to get into a car accident, according to several agencies. The Centers for Disease Control and Prevention (CDC), for example, says per mile driven, teen drivers ages 16 to 19 are nearly three times more likely than drivers aged 20 and older to be in a fatal crash.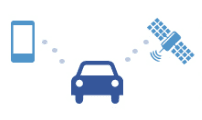 To help teen drivers – and their parents' peace of mind – car and accessory manufacturers are turning technological advancements into tools that can help keep teenage drivers safe.
The Key to Safe Teen Driving

One of the most widely hailed tools for safe driving is the Ford MyKey, an extra key that can be programmed to restrict certain driving behaviors. It can be set to limit top speeds, remind the driver to put on the seat belt, screen and block explicit satellite radio stations, limit the volume of the radio, and more. The MyKey is provided with most Ford models.

Tracking Teen Drivers

Several tools allow parents to keep track of their teenage drivers. Consumer Reports reviewed three GPS-enabled devices that plug into the car's diagnostic port and said all performed well. The devices monitor the car's location, speed, acceleration, braking and more, and provide alerts when rules are broken.

Similar tools include GM's Family Link, a part of OnStar, which is a subscriptions service. Hyundai's BlueLink service is like OnStar, and includes geographic boundaries, curfew, and speed alert features, as well as roadside assistance, monthly performance / maintenance need reports, and more. Mercedes-Benz offers similar services in its Mbrace teen safety feature.

Driving Decision-Making Assistance

One problem inexperienced teen drivers face is that they have yet to hone their ability to judge the proper space between vehicles. Several manufacturers offer enhanced , adaptive or active cruise control systems which allow the user to set a specific following distance from a vehicle in front of the car. When enabled, the system assists with collision avoidance by automatically braking or slowing the car to distance it from any vehicle ahead of it.

Anticipatory braking systems are similar to adaptive cruise control. The system developed by Daimler, for example, warns the driver of the need to brake to avoid a collision and then automatically applies brakes if necessary.

Judging Driver Alertness

Mercedes-Benz offers Attention Assist in some models to help drivers who may be drowsy or fatigued. Drowsy driving is a particular danger among young drivers who tend to sleep less than older drivers because of school, extra-curricular activities, part-time jobs, and social activities.

According to Mercedes-Benz, the feature assesses the driver's driving style then considers factors like crosswinds and road smoothness if certain steering corrections suggest the onset of drowsiness. If it determines that driver fatigue is a problem, it sounds an alert to encourage the driver to stop for rest.

Adding Alcohol Detection Devices

In some states, ignition interlock systems are attached to cars owned by drivers who have been convicted of drunk driving. But a few car manufacturers as well as some advocacy organizations have worked toward making such devices standard equipment.

The federal government's Driver Alcohol Detection System for Safety, or DADSS program, is a research partnership between a coalition of 17 automobile manufacturers and the National Highway Traffic Safety Administration to assess and develop devices that would prevent vehicle operation when a driver's blood alcohol concentration (BAC) exceeds the legal limit of 0.08 percent.

Saab, Nissan and others reportedly have worked on similar devices.

The idea is not without its detractors but, according to Reuters Health, researchers at the University of Michigan Health System in Ann Arbor say installing the devices in all new cars could prevent 85 percent of alcohol-related deaths on U.S. roads.

Some technology that can help teen drivers be safe is widely available, while some is only offered in high-end vehicles and other devices are still under development. Eventually new technology  becomes standard equipment, so devices in the works now may keep the children of today's teenage drivers safe.

But the best way to be safe on the road is to learn and adopt safe driving habits. And for teenage drivers, believe it or not, their best teachers are parents who drive safely.