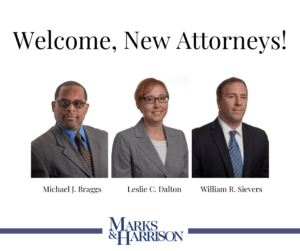 Marks & Harrison is pleased to welcome Michael J. Braggs, Leslie C. Dalton, and William "Rob" Sievers to the Firm.
Mike Braggs previously worked at Freeborn & Peters in Richmond. He completed his undergraduate studies at North Carolina State University and received his law degree from the University of Richmond School of Law.  Before he joined Freeborn & Peters, Mike served as Staff Counsel for GEICO.
Leslie Dalton comes to us from GEICO where she worked as Staff Counsel in Richmond. Prior to joining GEICO, she worked as an associate at Deanna Cooke, P.C., in Richmond and before that, with Morris Bart Attorneys at Law in New Orleans. Leslie received her B.S. from Virginia Commonwealth University and graduated from the College of Law at Loyola University New Orleans.
Rob Sievers previously worked at another personal injury law firm in Richmond and for an insurance defense firm. He started his career as a law clerk for The Honorable Glen M. Williams, Senior United States District Court Judge for the Western District of Virginia. Rob graduated from Elon University and earned his J.D. from Appalachian School of Law.