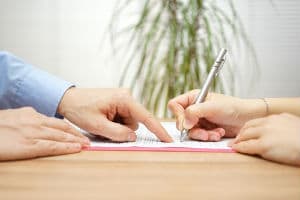 When you have been involved in a car crash, the injuries you sustain can have a major impact on nearly every aspect of your life. At Marks & Harrison, our experienced car crash attorneys understand the serious injuries that result from these accidents as well as the financial repercussions you may be facing.
The amount you receive in a car crash settlement needs to be enough to cover these expenses while also allowing for any future costs associated with your injury.
In many cases, it saves both time and money on the part of the insurer to settle your claim quickly. However, without the help of an attorney to adequately prepare your case, you may not end up getting the car accident claim settlement amount you need or deserve.
Facts About Car Accident Injuries
The latest crash data from the Virginia Department of Motor Vehicles indicates that more than 120,000 car accidents occurred in our state during a recent year, resulting in more than 60,000 injuries to drivers.
The Centers for Disease Control and Prevention (CDC) reports that car crashes are one of the leading causes of injury in the U.S. These injuries can be both harmful and expensive. The CDC reports the following facts about car accident injuries:
Lost wages due to car accidents total nearly $33 billion each year.
The average car accident emergency room visit costs a minimum of $3,300.
Hospitalization as the result of car accident injuries can cost $50,000 or more, depending on the nature and severity of your injuries.
Even seemingly minor injuries can have major impacts, resulting in lost wages and requiring the need for ongoing medical care.
Dealing With the Insurance Company
In the immediate aftermath of a car crash, you will likely be contacted by an insurance claims representative who has been assigned to your case. It is important when dealing with the insurance company to be aware of the types of statements you are making.
Many people have a tendency to downplay their injuries or blame themselves for contributing to their accident. According to an Edmunds report on dealing with insurance claims adjusters, it is important to remember the following when speaking with the insurance company:
Most claims adjusters have large caseloads and are under pressure to resolve these cases quickly. This can prevent them from taking the time to thoroughly review and investigate your particular claim.
Insurance companies often undervalue costs associated with your accident, including ongoing medical care or the costs to replace your vehicle. Do your own research on what costs are in your area and have evidence to support your claims to avoid being shortchanged in your car accident settlement.
View any settlement offer as just that – an offer. It is extremely likely that the original offer your insurance company makes will have undervalued or even completely missing items. Use a first offer as a negotiating point.
Before making any statements to the insurance company or accepting any settlement offer, it is always a good idea to speak with one of the experienced attorneys at Marks & Harrison first.
Preparing Your Case
Among the many benefits of having our attorneys work on your behalf in negotiating a car crash claim settlement is that we take the time to thoroughly prepare your case.
We will obtain copies of police reports and medical records supporting your car crash claim. We can also contact witnesses who can testify on your behalf.
We consult with experts in the field to get a complete picture of the crash, your injuries and the amount of time it may take you to completely recover.
According to research conducted by the National Institutes of Health, the impacts of being involved in a car accident have the potential to adversely affect matters in your everyday life for as long as five years after your accident.
Once your case has been thoroughly investigated and prepared, we can assemble an extensive demand package to be presented to the insurance company complete with expert testimony, videos and graphics representing your actual and potential losses, and a detailed summary of how the crash impacted your life. This gives us the kind of leverage necessary to negotiate for the maximum car crash settlement amount in your case.
We will present our demands to the insurance company while exploring the options available through filing a personal injury lawsuit against the at-fault driver. In the event a lawsuit is in your best interests, we will continue talks with the insurance company while proceeding with litigating your case.
Negotiating a Settlement
When calculating the amount of compensation you may be entitled to in a car crash, we will figure in the total amount of damages you suffered as the result of your accident and injuries.
Under Virginia law, the damages that may be pursued after a car accident include:
Medical expenses, including the cost for ongoing physical rehabilitation
Lost wages and future losses of income
Pain and suffering, which is the sorrow, mental anguish and suffering caused by your injuries
Compensation for loss of enjoyment in life such as the loss of being able to participate in hobbies and activities you once enjoyed
Punitive damages, which are meant to punish particularly reckless behavior on the part of the at-fault driver.
In many cases, it is often in the best interests of the client to negotiate a settlement with the insurance company rather than taking a personal injury lawsuit against the at-fault driver to court.
Serving documents, attending depositions and scheduling a trial can take a great deal of time, and your chances of collecting on a settlement with the insurance company are often better than collecting a judgment from a specific person.
Our experienced attorneys can help you determine what is in your best interests in your particular case.
Contact Our Experienced Virginia Car Accident Attorneys Today
If you or someone you love has been injured in a car crash, contact Marks & Harrison today. Our experienced Virginia car crash attorneys provide professional and highly effective legal representation. We can advise you on how to seek the maximum amount of compensation available by law in your particular case.
Serving Richmond and the surrounding areas, we are prepared to help. Call or reach us online today to learn more.