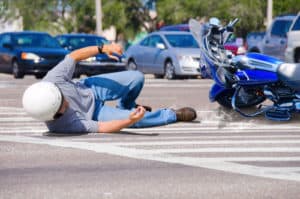 A report about motorcycle accidents published jointly by the nonprofit Motorcycle Safety Foundation and the federal government's National Highway Traffic Safety Administration points out that in most accidents a motorcyclist is separated from his or her bike. Therefore, the best protection for a motorcycle rider is worn by the motorcyclist and not a part of the motorcycle.
The NHTSA and MSF's National Agenda for Motorcycle Safety says the proper protective apparel for a motorcyclist to wear includes a helmet, heavy-duty jacket and pants, boots, gloves and eye protection.

The most useful piece of protective gear for motorcycle riders is, in fact legally required in Virginia. It is a Federal Motor Vehicle Safety Standard (FMVSS) 218 compliant helmet.
"In the event of a crash, no existing strategy or safety equipment offers protection comparable to a FMVSS 218 compliant helmet," the NHTSA-MSF report states. "There are no compelling medical arguments against helmet use."
We've said it before but it bears repeating:
Motorcycle helmets are estimated to be 37 percent effective in preventing fatal injuries for motorcycle operators and 41 percent effective for motorcycle passengers, according to the NHTSA.

A rider without a helmet is 40 percent more likely to suffer a fatal head injury than is a helmeted rider, according to the Virginia Department of Motor Vehicles. Motorcycle helmets are about 67 percent effective in preventing traumatic brain injuries and about 29 percent effective in preventing motorcycle accident fatalities overall.


Additionally, the MSF says in a brochure titled "What You Should Know About Motorcycle Helmets," a helmet "cuts down on wind noise roaring by your ears, on windblast on your face and eyes, and deflects bugs and other objects flying through the air. It even contributes to comfort from changing weather conditions and reduces rider fatigue."
Since 1974, all motorcycle helmets sold in the U.S. are to be FMVSS 218 compliant, also known as the DOT helmet standard. If you have an older or suspect helmet, check it at the Motorcycle Industry Council's Helmet Check website.
Heavy duty jacket and pants.
There's a reason bikers wear leather. Sooner or later every rider will have to lay their bike down. Abrasions ("road rash") are the most common motorcycle injury. A heavy duty jacket and pants, or a riding suit, can help prevent or lessen such injuries. In addition to leather, motorcycle jackets, pants and riding suits are made of abrasion-resistant man-made fabric (e.g., Cordura, Kevlar or ballistic nylon) and are cut longer in the sleeves and legs, and fuller across the shoulders for comfort, the MSF says.
To increase safety, don't go for the all-black biker look or for trendy camouflage or olive drab when you choose motorcycle apparel.
A brightly colored helmet and upper-body clothing, such as in red, orange, yellow or lime green, will make you stand out to motorists. Some riders wear lightweight reflective vests over their jackets to increase visibility.
Boots.

Foot and ankle injuries, particularly fractures, and other lower-extremity injuries are among the most common in motorcycle accidents. Sturdy, over-the-ankle boots offer protection to feet and ankles, as well as from burns caused by hot exhaust pipes and the impact of flying road debris. Never ride a motorcycle in tennis shoes, sandals or barefooted, even if you are just riding across the yard or down the driveway.
Gloves.

Full-fingered motorcycle gloves will help prevent cuts, bruises and abrasions in a crash and protect hands from blisters, wind, sun and cold. Gloves also decrease the problem of cramping due to exposure to extreme temperatures, which can adversely affect the ability to safely operate a motorcycle.
Eye Protection.

In addition to a helmet, Virginia law requires motorcyclists to wear safety glasses or goggles, or a face shield (as part of the helmet) unless the motorcycle is equipped with a windshield. The MSF points out that goggles protect the eyes but not the rest of the face. In one guide to protective gear, the MSF says any rider who's been hit in the face by stones, insects or debris can tell you the benefits of a full face shield.
In addition, the MSF safety guide that much of this report is based on suggests that avid motorcycle riders wear hearing protection to guard against the long-term exposure to engine and wind noise, and own a rain suit or waterproof riding suit for foul weather.