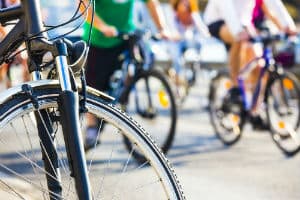 Bicycle riding is a growing trend. It is becoming more popular both for transportation and for recreation. Unfortunately, bicycle accidents occur all too frequently. When they happen, the injuries can be serious. Even those who are wearing a bicycle helmet may be severely hurt.
If you have been hurt due to the negligence of another in a bicycle accident, you may be entitled to compensation. You should talk to an experienced Virginia personal injury attorney as soon as possible.
Of course, bicycle safety education is important in reducing the number of accidents. The Richmond 2015 "Ride Like a Champion" campaign seeks to educate children and their parents on the importance of bicycle safety in an effort to reduce bicycle accidents in the Richmond area.
Bicycle Safety Saves Lives
The World Bicycle Championship recently held in Richmond highlighted the sport of bicycle riding and has increased the interest in bicycling – especially among children.
However, youngsters often do not know the rules of the road. They may not understand the importance of bicycle safety.
With that in mind, the Richmond 2015 bicycle safety program is designed to teach safety measures that kids can utilize to increase their safety while bike riding. Richmond 2015 is a nonprofit company that organizes, manages and promotes the 2015 UCI Road World Championships.
A Closer Look at the 'Ride Like a Champion' Program
The Richmond 2015 "Ride Like a Champion" program includes a variety of features that help teach grade school children and their parents more about bicycle safety. Some of the highlights of the program include:
Ride Like a Champion safety booklet
School flag
Mike and the Bike (an online curriculum for parents)
Curriculum for teachers that is available online.
The program partners with the Virginia Department of Education and uses the excitement of the World Championships as a tool to assist in educating local students. This year, more than 75,000 booklets were given out to students.
Programs are separated into various grade designations so that children learn at their own level of comprehension.
Important Bicycle Safety Tips
Demo Ideas scene
Bicycle safety education includes learning the basic rules of the road, understanding the need to wear bicycle helmets at all times and knowing road signs.
Kids often do not want to wear a helmet while riding. Yet, it can certainly help protect against severe head injuries in a fall or accident.
Bicycle riding is fun, but it also comes with some responsibilities. Children must be aware of their safety while riding and need to follow the common rules that automobile drivers also follow. Failure to follow the rules can create unsafe situations that may contribute to accidents.
For example, bicycle riders must stop at stop signs just as vehicles do. Riders must also signal their turns and stops to let drivers know what they are going to do. They also need to stay in the proper lane while riding.
Some important bicycle safety tips include:
Wear a proper bicycling helmet
Be aware of traffic
Follow the rules of the road
Ride in the bicycle lane
Use hand signals
Wear reflective clothing
Utilize lights at night
Do not ride a bicycle while distracted.
These tips and other important information are provided in the pamphlets and online materials supplied as part of the "Ride Like a Champion" educational program.
It is important to note that if a bicycle helmet was impacted, it may no longer be functional. Anytime a helmet was compromised, a new one should be used. Also, it is essential that the helmet fit properly.
Helmets come in a wide variety of sizes and shapes, which can often be adjusted with inner padding. It is necessary to ensure that your child is wearing the helmet properly and buckling the buckle for the correct fit.
Bicycle Accidents
According to the Centers for Disease Control and Prevention (CDC),  bicycle accidents were responsible for more than 900 deaths in one recent year. Also, an estimated 494,000 bicycle riders were injured and required medical treatment at an emergency room that same year.
Most bicycle accidents involve young people and are most likely to occur in urban areas. The CDC suggests that these injuries and deaths could be reduced with the use of proper bicycle safety practices. This includes using the helmet, following the laws and wearing reflective clothing when riding at night – to name just a few.
Marks & Harrison Supports Bicycle Safety
Bicycle safety is a serious concern in our community. With help from programs such as this one, children and parents alike will learn how to prevent accidents from occurring while riding their bikes.
The Richmond 2015 "Ride Like a Champion" campaign is an excellent way to make people more aware of their responsibilities and safety while riding a bicycle.
Bicycle riders do have the ability to make their ride safer. However, bicycle riders can only go so far in preventing accidents. Many accidents are caused by the vehicle driver.
Automobile Drivers and Bicycle Accidents
While bicycle riders can improve their awareness of safety while riding, even taking precautions will not prevent every accident from occurring. Many bicycle accidents happen when vehicle drivers are negligent in their actions.
A negligent driver is not cautious enough while driving – especially when bicycles are present. Drivers must take care to properly share the road with bicycle riders in a safe manner.
Bicycle accidents are serious and traumatic. Head injuries are among the most common type of medical problem associated with bicycle accidents. Traumatic brain injuries can occur from a serious fall on the pavement. The treatment may require multiple surgeries and months or years of rehabilitation. Some patients may never fully recover.
If you or a loved one has been hurt in a bicycle accident, you may be facing high medical bills, including future expenses for treatment and rehabilitation. These costs may be recoverable as well as damages for pain and suffering.
At Marks & Harrison, we work hard to ensure that the rights of our clients are protected. Contact us today for a free consultation if you or a loved one has been harmed in a bicycle accident.