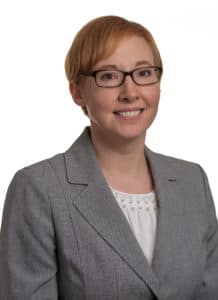 To Leslie C. Dalton, being a trial lawyer is not unlike performing on a theatrical stage.
When she was a student at Richmond's Godwin High School, Leslie was active with the Short Pump Players, the school's well-known theater group—an activity that may have provided the initial spark for her to ultimately become a trial lawyer.
"I like to perform and speak," she says. "I don't think people often think of attorneys as being creative, but I think that being a trial lawyer is sort of a creative outlet for me."
Leslie graduated with honors from Virginia Commonwealth University with a B.S. degree in criminal justice in 2004. She then headed to Louisiana to attend Loyola University New Orleans' College of Law in 2005—just in time for Hurricane Katrina. The epic storm struck during her second week there, forcing the school to temporarily move its operations to the University of Houston Law Center.
Initially, Leslie was interested in a career in criminal law, but during law school she realized that she preferred civil law and wanted to represent plaintiffs. She had a taste of criminal law working in a public defender's office as well as in the Orleans Parish District Attorney's office, but the primary stimulus for her decision to be a civil trial attorney may have come from her participation as a member of the school's mock trial team, which placed first in the nation in a competition sponsored by the American Bar Association. "That's what made me think: 'I can do this; I can be a trial attorney,'" she recalls.
After receiving her J.D. in 2008, Leslie joined a Houma, La., firm where she handled criminal defense and insurance defense for two years before joining a New Orleans firm where she began representing injured plaintiffs. She'd gotten married and started a family, and after four years realized that setting down roots back in Richmond was a good idea.
After returning home, Leslie joined GEICO insurance company as a staff counsel, acquiring valuable experience from the insurance-defense side that she puts to effective use today for her clients.
She joined Marks & Harrison in March 2019 and is concentrating her work solely on personal-injury litigation.
While she enjoys trying cases, Leslie has found that client contact provides just as much professional satisfaction.
"I think that getting to know the people is what I like the best," she says. "To me, it's an honor to have the opportunity to help members of my community in a situation where they don't necessarily have another option."