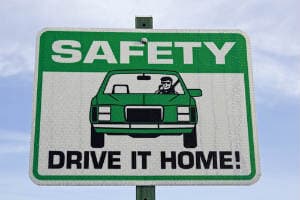 It is an important question among NASCAR fans: "Who's your driver?" Virginia traffic safety experts want people to realize that it is an important question to ask when it comes to driving away from the racetrack as well.
The "Who's Your Driver?" campaign is a new safety initiative that is being spearheaded by several groups, including DRIVE SMART Virginia, a non-profit organization that seeks to educate drivers and raise safety awareness in order to decrease car accidents and injuries on our state's roads.
This campaign is aimed specifically at young men, encouraging them to always have a sober, responsible driver behind the wheel.
At Marks & Harrison, we know that car accidents can happen anywhere and under any type of conditions. While road and weather conditions can cause some accidents, the majority of crashes directly result from negligent and reckless decisions such driving after drinking.
By raising awareness through the "Who's Your Driver?" campaign and similar efforts, we hope to see our roads truly become safer for everyone.
'Who's Your Driver?' Targets High-Risk Drivers
'Who's Your Driver?' actually is a collaborative effort of Richmond International Raceway, the Virginia Department of Motor Vehicles (DMV) and DRIVE SMART Virginia, according to CBS 6.
The groups designed the campaign to reach 18-to-35-year-old males, a demographic that is responsible for as high as 72 percent of all impaired driving accidents in Virginia, CBS 6 reports.
By working with NASCAR affiliates and spreading the word at Richmond International Raceway events, the campaign strives to encourage young drivers to make sure they avoid drinking and driving and, instead, choose a designated driver to get them home safely after a night out.
The campaign seeks to encourage other safe driving behaviors as well such as wearing seat belts and refraining from driving while distracted by texting or talking on a cell phone.
Many Other Projects Encourage Traffic Safety in Virginia
Many other campaigns are currently underway to promote traffic safety in Virginia, including:
Click It or Ticket – This campaign reminds Virginia drivers that wearing a seat belt while driving is not only a way to prevent serious injuries in a crash – it is also the law. Drivers can be pulled over if police see them going down the road unbelted.
Share the Road – This initiative educates motorists about what they need to do in order to safely share the road with pedestrians and bicyclists.
Share the Road Game Plan – This campaign focuses on preventing crashes involving large commercial trucks. For instance, the campaign points out trucking blind spots and warns drivers about the dangers of following tractor-trailers too closely.
Distracted Driving Awareness Month – This initiative encourages drivers of all ages to put down their cell phones and pay attention when they are behind the wheel. The campaign takes place every April.
Drive Alive Richmond: Our Law Firm's Effort to Make Virginia Roads Safer
While it is important for all drivers to pay attention behind the wheel, the Virginia Pilot reports that teens are among those most at risk of getting into distracted driving crashes.
More than half of all teen driving accidents involve some sort of distraction behind the wheel such as talking or interacting with other passengers, looking for something inside the vehicle and talking or texting on a cell phone, according to the newspaper.
At Marks & Harrison, we launched Drive Alive Richmond, an initiative that targets the issue of teen distracted driving. As part of the initiative, we conducted a survey of teen drivers in an effort to get a better understanding about their distracted driving attitudes and behaviors.
Among the teens who participated in our survey, 94 percent said they knew that texting while driving is dangerous, while 93 percent said they knew it was banned in Virginia. Still, 58 percent said they engaged in distracted driving.
However, our survey revealed, teens whose parents have discussed texting while driving are less likely to engage in this risky behavior than teens whose parents fail to discuss this issue.
Among teens who said their parents discussed texting while driving, 52 percent said they still text and drive. In contrast, among those teens who said their parents had not discussed texting while driving, 64 percent said they did it.
Based on those survey results, we concluded that parents can play an important role in preventing teen accidents.
For instance, parents can talk with their teen drivers about:
Turning the cell phone off when they get into their vehicles
Placing the cell phone in an area of the car where they cannot reach it
Waiting until they can safely pull over before responding to a text or phone call, including one from a parent
Taking advantage of cell phone apps that automatically disable the phone when the car is in operation.
Of course, parents can also talk with their teens about the dangers of impaired driving. They can encourage their teens to call them for a ride home – no questions asked – instead of drinking and driving or getting into a vehicle with someone who has consumed alcohol.
Our Virginia Car Accident Attorneys Are Ready to Help You
If you or someone you care about has been involved in a car accident, contact Marks & Harrison without delay. We can provide a free review of your case and help you to understand the legal options that may be available to you.
We can then get to work right away on investigating your case and pursuing all compensation you may be entitled to receive, including compensation for your medical expenses, lost income, pain and suffering and more.
With offices in Richmond and eight other locations throughout Virginia, we are conveniently available to meet with you. Call or reach us online today.