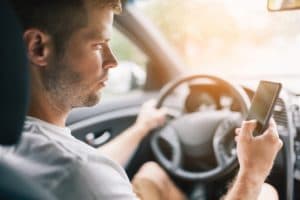 Drivers in Virginia should fully grasp the dangers associated with texting and driving. They should realize that when they text while driving, they take their hands off the wheel and no longer focus on the road in front of them. As a result, they risk causing a serious car accident.
Fortunately, Virginia has enacted a law to address this issue. While it is still legal to talk on the phone while driving in our state, it is illegal to text or email while behind the wheel (with only a few exceptions). If a driver that was texting and driving recently hurt you in a crash, it will be important that you contact an experienced Richmond car accident lawyer at Marks & Harrison as soon as possible. We can put more than a century of experience to work for you.
Virginia Bans Texting While Driving
Prior to 2013, Virginia law treated texting and driving as a summary offense. If a law enforcement officer pulled over a driver for another traffic violation such as speeding, the officer could also issue a ticket for texting while driving. Because it was a summary offense, officers issued few tickets.
However, in 2013, our legislature made several changes to the state's texting law, or Va. Code § 46.2-1078.1. Today, texting and driving is considered a primary offense. When a law enforcement has reason to believe a driver is texting while behind the wheel, the officer can issue a ticket for that offense alone.
At the same time when the law changed, the penalty for drivers that violated the law also become more severe. A first offense now carries a fine of $125, while subsequent offenses carry a $250 fine. When a driver is convicted of texting and driving as well as reckless driving, the fine for the texting and driving offense is automatically $250 – even if the driver does not have any prior convictions. A conviction will also result in DMV demerit points being added to the driver's license.
Are There Any Exceptions to Virginia's Ban on Texting While Driving?
Although it is illegal to text and drive in Virginia, the law provides for a few exceptions. The exceptions apply to drivers who:
Operate emergency vehicles while performing official duties
Are legally parked or stopped
Use GPS navigation systems in their vehicle or receive data using a digital dispatch system
Are in the process of reporting an emergency situation.
The law defines an "emergency vehicle" as a law enforcement vehicle, detention center vehicle, fire truck, emergency medical services vehicle or any vehicle that can legally be equipped with blinking, flashing or alternating red and white warning lights.
Can You Still Talk on a Phone While Driving in Virginia?
Many states have banned not only texting and driving but also the use of all hand-held devices while operating a motor vehicle. The reasoning behind these laws is that it is difficult for law enforcement officers to determine what a person is doing while holding a phone. Virginia's law does not include any language about streaming videos or the use of apps such as a music app that allows a driver to listen to playlists. The law in the state focuses only on texting and using email.
In early 2019, Virginia lawmakers debated a bill that would have also made Virginia a hands-free state, effectively making it illegal for any driver to even hold a phone while driving. However, some lawmakers argued that drivers should still be able to hold a phone while talking on it. However, the lawmakers could not decide on a bill. So, currently, Virginia has no new laws that address the problem of distracted driving.
How Can Virginia's Texting and Driving Law Affect Your Car Accident Claim?
If another driver that is texting or emailing behind the wheel causes a car accident that leaves you with serious injuries, you can file a claim against that driver. This is a type of personal injury that rests on the concept of negligence, or the failure of a person to use reasonable care that results in harm to another.
A related legal concept is negligence per se, or negligence which is presumed as a matter of law. If a person violates a law that was meant to protect others, then that violation is treated as negligence per se. Due to the fact that texting and driving is illegal in Virginia, if a driver is texting at the time of the crash, that driver could be considered to be negligent per se and could be held liable for paying damages anyone harmed by the driver's negligent conduct.
In Virginia, as in all other states, the law recognizes another type of negligence called contributory negligence. Contributory negligence refers to when an accident victim contributed to the accident that resulted in his or her injuries. Most states follow a modified version of contributory negligence which allows accident to still collect compensation as long as they were less than 49 or 51 percent at fault for the accident.
However, Virginia is one of the few states that follows the model of pure contributory negligence. Under this law, if an accident victim is even one percent at fault for his or her crash, the victim can be barred from receiving any compensation at all for his or her injuries. Due to this law, negligent parties will almost always claim that the accident victim was partly to blame for the crash so they can avoid paying any compensation.
Our Virginia Car Accident Attorneys Are Here for You
If you have been in a car accident, do not try to file an accident claim on your own. At Marks & Harrison, our car accident lawyers are here to help. We will determine who was liable for your accident and aggressively seek to hold that party accountable for paying the compensation that you deserve. For more than 100 years, our law firm has fought to protect the rights of auto accident victims in Richmond and throughout Virginia. We are ready to fight for you, too. Contact us today to learn more in a free consultation.