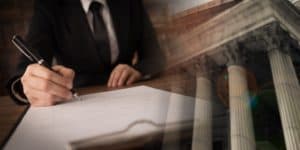 Most injuries are caused by private citizens and employees of companies. However, sometimes, government employees make mistakes that can cause serious harm to the public. For instance, the driver of a county-owned garbage truck may run a red light. Whatever the scenario, when a government entity causes your injuries, you should understand special considerations about your potential personal injury claim.
Does Sovereign Immunity Apply to Cities in Virginia?
Yes – and no. The Commonwealth of Virginia is immune except where the law has expressly granted the public a right to bring claims. Under the Virginia Tort Claims Act (VTCA), individuals and estates may bring claims for injuries or death arising from the negligence of the government or its employees.  The limit of compensation is either $100,000 or the limits of any liability insurance available. However, many different exceptions exist. You should speak with a lawyer in order to determine whether one of those exceptions applies to your case.
Can You Sue an Individual City Worker for Your Injuries?
In most cases, you cannot sue a city worker individually for your injuries. It depends on whether the worker was performing a "government" or "proprietary" function at the time of your injury. If the worker was filling a traditionally governmental function, immunity will likely apply. If the worker was filling a primarily proprietary function, immunity may be waived. Of course, don't expect the distinctions to be easy to understand. In many cases, the distinctions can be quite nuanced.
What Is the Difference Between Government and Proprietary Functions?
Think of a proprietary function as something that is normally done by private industry. A government function is one that furthers the goals of the government. Virginia courts have routinely held that the underlying question is whether the individual (and the municipality) was acting in a way that more closely resembles a government action for the common good as opposed to performing a role that is traditionally considered to have a pecuniary benefit for the local government. Consider these examples:
If a city employee is fixing street signs at the time you are injured, it is likely a government role, and immunity applies. After all, street signs are typically for the good of all. However, some functions really blur the lines. For instance, garbage collectors, water companies, gas and other utility companies are typically private industries. Yet, in Virginia, government agencies often fill these roles. Say the city worker was changing a water meter on your home. In this case, there's a good chance that it would be construed as a "proprietary" function, meaning the city would not be immune.
As you can see, the distinction between government and proprietary functions can be confusing. This is why it is important to work closely with an attorney who has the experience and resources to determine the function that a government worker was carrying out at the time of your injury and whether immunity applies.
What Happens if a School Bus Causes Your Crash?
It's not impossible to sue a bus driver or school district. Still, it can be very difficult. Counties in Virginia share the same heightened immunity as the state. However, many school buses are operated by local school districts, which are actually municipal in nature — not county-run. This provides a greater chance of being able to bring a claim against the school district where there is clear evidence of negligence.
How Much Time Do You Have to Bring a Lawsuit Against a City in Virginia?
If you are injured by a city, county, township, or other municipality in Virginia, you have just six months to submit a written notice of your claim to the relevant government entity. Failure to do so will result in a complete and permanent bar to your claim, regardless of the merits of your case and the severity of your injuries. Additionally, you must bring a claim within two years from the date of injury or within two years from the date of your loved one's death.
Statutes of limitations are strict for a reason. They provide certainty and clarity. They also encourage people not to sit on their rights. If you are seriously injured or lose a loved one due to a negligent government entity, you should not be forced to suffer alone. You deserve to be compensated for your injuries and losses. However, the sooner you contact an attorney the better. Waiting too long could result in forever losing your rights.
Suing the Federal Government
It is important to distinguish between state and federal government entities. If you are injured by a federal employee or in a federal facility such as a veterans' hospital or a post office, the default rule would be that the U.S. government has sovereign immunity. However, federal law has carved out a limited exception, provided you follow certain steps. A law known as the Federal Tort Claims Act (FTCA) applies to these types of cases. To preserve your rights, you need to be aware of two dates:
You must bring your claim within two years of your injury.
If the agency denies your claim, you must bring a federal lawsuit within six months of the denial.
If the agency fails to make a determination within six months of filing the claim, you can file a lawsuit at any time thereafter.
How Can a Lawyer Help You to Sue the City for Personal Injury?
An experienced attorney can quickly review what happened to you or your loved one and give you valuable insight into whether you have a case and the time limits that may apply to it. As one of the largest and oldest personal injury law firms in Virginia, Marks & Harrison has a proud and rich history of fighting for justice. With 10 offices located throughout the state, we make it convenient for you to get the legal help you need and deserve. To learn more, contact us today. Our consultations are always free, and we only get paid if you do.