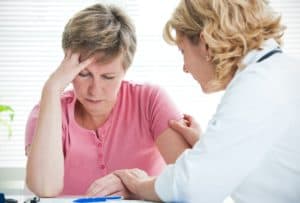 When our car accident attorneys assist clients in Virginia that have been injured in crashes, we try to understand how the accident affected them emotionally as well as physically. We speak with the injured client as well as the client's family, friends and/or colleagues who may have noticed changes in our client's mood and behavior. We may also ask our client to keep a journal to record their emotional pain and suffering after an accident. Additionally, we often ask others to give a sworn oral or written statement or to testify at trial.
As advocates for the unjustly injured, the attorneys of Marks & Harrison want to make sure that we account for the anguish and emotional distress that our clients have needlessly experienced. We aggressively seek compensation for their mental anguish and emotional distress in our negotiations with insurance companies or in personal injury lawsuits. As we discuss below, the emotional impact of a crash is very real, and it merits proper compensation.
Can You Get PTSD From a Car Accident?
After a traumatic experience, some people develop post-traumatic stress syndrome, or PTSD. Due to PTSD, a person may be unable to work, develop or maintain relationships or enjoy many aspects of life that they did before the accident.
Because PTSD is a frequent consequence of service in military combat, the U.S. Department of Veterans Affairs has established the National Center for PTSD,  dedicated to research and education on trauma and PTSD. The Center provides a wealth of information that can help people who have been involved in car accidents to understand their own struggles with PTSD.
As the VA states, most people experience some form of stressful reaction to trauma. If the stress does not go away over time and begins to disrupt your life, you may have PTSD. The four main types of PTSD symptoms are:
Reliving the event
Avoiding reminders of the event
Negative changes in beliefs and feelings
Feeling keyed up (anxious).
In one article on its website, the National Center for PTSD says that most people who survive a serious car accident do not develop significant mental health issues. Still, "a substantial minority of MVA [motor vehicle accident] survivors suffer from mental health problems, the most common of which are PTSD, major depression, and anxiety disorders," according to the VA.
Studies show that about 60 percent of people who seek counseling after a car accident suffer from PTSD. They may also have a mood disorder such as major depression. As the amount of physical injury and fear of dying caused by the accident increases, the chance of developing PTSD also increases.
"[I]n one large study of MVA survivors who sought treatment, 27 percent had an anxiety disorder in addition to their PTSD, and 15 percent reported a phobia [fear] of driving," the article says.
How PTSD is different than other injuries
One aspect of auto accident-related PTSD that is different from PTSD caused by other traumas is the increased likelihood of being injured or developing a chronic pain condition following the trauma, the article states. As a result, many people who have been in a crash go first to their primary care doctors for treatment, and they do not consider psychological treatment until later on.
Unfortunately, of the people who develop PTSD and fail to seek psychological treatment, approximately half continue to have symptoms for more than six months or a year, according to the article. So, it is important to identify the symptoms early on and seek appropriate psychological treatment.
Other research has led to similar conclusions. For instance:
Assistance with Psychological Trauma Caused by a Car Accident
Many therapists in Virginia specialize in trauma and PTSD. We urge you to seek assistance if you have any lasting emotional discomfort following a car accident or any traumatic experience. Your mental health should be a top priority as you move forward after a car accident.
You should also seek immediate legal assistance. At Marks & Harrison, for instance, we can pursue personal injury damages on your behalf and explore all other options available to you. For instance, you may qualify for Social Security Disability (SSD) benefits. The SSD program pays monthly benefits to individuals based on their earnings prior to having contracted a qualifying disability that made them unable to maintain substantially gainful employment. If you were driving as a part of your job when your car accident occurred, you could also be eligible for workers' compensation benefits, which pay for medical bills and replace a portion of your wages.
At Marks & Harrison, our injury and disability attorneys never disregard or downplay a complaint of pain or emotional distress. We take both physical and emotional injuries seriously and seek maximum compensation for all of the harm that our clients have suffered.
Get Help from Our Experienced Virginia Car Accident Attorneys
If you believe that you or your loved one has suffered emotional injury in addition to physical injury after a car accident in Virginia, contact Marks & Harrison for an immediate, free consultation about your case. Our law firm has offices in Richmond and nine other locations throughout the state. If you have been in a car accident, click here. Call or reach us online today to learn more about how we can help you.