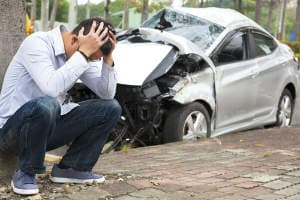 Car crashes can happen to the best drivers. While developing defensive driving skills can help you to avoid accidents and injuries, you cannot control the behavior or other drivers.
Seat belts have been shown to reduce the impact and severity of injuries suffered in automobile accidents. However, what happens if you were not wearing one when your accident happened? Are you still entitled to collect damages from an at-fault driver?
To answer these questions, we must look at the role of negligence and contributory negligence in Virginia car accident claims.
The Role of Negligence in Car Accidents
According to the National Highway Traffic Safety Administration (NHTSA) roughly five million car accidents occur each year in the U.S., resulting in serious, potentially disabling injuries for more than two million drivers and their passengers.
While these accidents can occur as the result of severe weather and road conditions, the NHTSA reports that the majority are caused by the careless and reckless driving behavior of others.
Negligence is doing or failing to do something that a reasonable person would do under similar circumstances.  Examples are:
Speeding or going too fast for conditions
Distracted driving such as using cell phones or texting while driving
Aggressive driving such as tailgating and making improper lane changes
Driving while fatigued and falling asleep behind the wheel
Driving under the influence of alcohol or drugs.
When a driver's negligence results in injuries to other drivers, the driver can be held liable for expenses such as a victim's current and future medical costs, lost wages and future lost earnings and pain and suffering.
Contributory Negligence in the State Of Virginia
In many car accident cases, the at-fault driver may raise contributory negligence as a defense. In other words, the driver will allege that the other driver's negligence at least partially contributed to the accident.
In the majority of states, drivers can be found to be responsible for accidents and still recover at least a portion of the damages they have suffered. However, Virginia is one of only four states that follow the contributory negligence rule.
Under this rule, even if a driver is only one percent responsible for an accident, the driver can be completely barred from recovering damages through a personal injury lawsuit.
Is Failure to Wear a Seat Belt a Form of Contributory Negligence?
Under Va. Code § 46.2- 1094, drivers and front-seat passengers who are age 18 and older must wear a seat belt at all times when a vehicle is being driven on a public highway. Only a few exceptions apply. For instance, you are not required to wear a seat belt if you are being transported in the front seat of a taxi.
A failure to follow this law can result in a civil penalty of $25. A defense attorney in a car accident lawsuit may also try to raise the failure to wear a seat belt as a defense, claiming that a violation of the seat belt law is a form of contributory negligence.
Certainly, it is easy to see the basis for this argument. With that said, Va. Code § 46.2-1094 specifically prohibits the argument. The law expressly states:
A violation of this section shall not constitute negligence, be considered in mitigation of damages of whatever nature, be admissible in evidence or be the subject of comment by counsel in any action for the recovery of damages arising out of the operation, ownership, or maintenance of a motor vehicle[.]
This makes sense when one considers that, while the lack of a seat belt may have contributed to the severity of a person's injuries, it was the actions of the at-fault driver that caused the injuries in the first place.
Wear Your Seat Belt – Regardless of Whether It Can Be Used Against You
Although failure to wear a seat belt clearly cannot be used against you in a personal injury lawsuit in Virginia, you should wear one, anyway.
It is always a good idea to buckle up and to encourage your passengers to do the same. Not only is failing to use a seatbelt against the law in Virginia and most other states throughout the country, but seatbelt use is proven to be effective in preventing car accident injuries and deaths.
According to the Centers for Disease Control and Prevention (CDC), seatbelt use can reduce the likelihood of serious injuries by nearly 50 percent, and it has the potential to save hundreds of thousands of lives each year in the U.S.
Additionally, the most recent crash data from the Virginia Department of Motor Vehicles shows that nearly 10 percent of accidents involving drivers who were not wearing a seatbelt resulted in fatalities, while the death rate for drivers who did use a seatbelt was less than half a percent.
Have You Been Injured in a Car Accident in Virginia? Get Help Today
If you or someone you love has suffered injuries in a car accident, contact Marks & Harrison today. Our experienced car accident attorneys can get to work immediately on pursuing just compensation for your medical expenses, lost wages, pain and suffering and other damages suffered in a car accident through no fault of your own.
We will aggressively protect your rights, including the right to be free from having the "seatbelt defense" used against you by the at-fault driver.
Our law firm features nine offices located throughout Virginia, including our headquarters in Richmond. Reach us today to receive a free consultation.