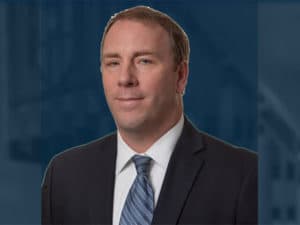 Growing up in Manassas, Virginia, Rob Sievers thought he would become a sports agent one day. He did not envision doing personal injury work. However, today, as a member of our legal team at Marks & Harrison, he says that he cannot imagine doing any other type of work.
"While this calling requires dedicated hours and complete attention to detail, I would not have it any other way," Rob says. "The reward comes in seeing our clients when they finally breathe deeply knowing that they are not alone in this process – that they have our unfettered support and know we will do whatever it takes to help them along the way."
Drawn to a Legal Career
Rob earned his undergraduate degree in Communications from Elon College (now University) and enrolled at The Appalachian School of Law. While in law school, he served as the Student Bar Association (SBA) President and received the American Bar Association's SBA President of the Year award.
He was admitted to the Virginia Bar in 2002 and began his career as a clerk for the Honorable Glen M. Williams in the U.S. District Court for the Western District of Virginia in Abingdon.
"While I ultimately did not become a sports agent, I found that I enjoyed law school, and the critical thinking that it requires and invites," Rob says. "My father was a lawyer before becoming a judge. Seeing him carry out a meaningful career and maintain a strong work-life balance was influential as well."
'Whatever It Takes to Best Represent Our Clients'
As an attorney with Marks & Harrison, Rob dedicates himself to helping and guiding our clients through (what is very often) a highly difficult time in their personal lives. He works with them to ensure that they are not alone during the critical moments following a motor vehicle crash or other personal challenge.
"We stand up to the insurance companies and insist that our clients be treated with the utmost dignity and respect," he says. "In many instances, that means representing our clients in court."
During his time as a litigator, Rob has tried more than 100 jury trials throughout Virginia.
"In short, on a daily basis, I do whatever it takes to best represent our clients in their time of need."
He is admitted to practice in not only state courts in Virginia but also in the U.S. District Courts for the Eastern and Western Districts of Virginia, Fourth and Sixth Circuit U.S. Courts of Appeals and Supreme Court of the United States.
A Sports Fan with a Mustache (Every November)
When he is not working, he enjoys following sports at all levels and maintaining an active lifestyle. He works out in the mornings with a group of friends, and he participates in endurance races.
As an avid Washington, D.C., sports fan, he was glad to see the Nationals win the World Series and end what he called the city's "long cold winter." He also follows the Redskins, Capitals and Wizards, and he dabbles in sports writing by writing pieces for a variety of sports content sites.
Additionally, Rob volunteers as a youth sports coach and as a fundraiser for a variety of charitable endeavors. In fact, every November, he grows a mustache throughout the month to raise funds for a different charity.
"It's a great way to give back to the community and embarrass myself along the way," he says.