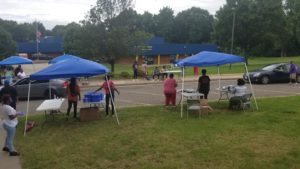 Marks & Harrison sponsored the 14th Annual WE CARE Community Festival on Saturday, August 29th.
The annual event in Northside Richmond looked a little different this year due to the pandemic but they were able to offer drive-thru COVID-19 testing, school supplies, food boxes and voter registration.
WE CARE stands for Wellness, Education, Community Awareness, and Resident Empowerment. Over 200 children were given school supplies and several families received food boxes.
Thank you to the Fifth Street Baptist Church in Richmond for continuing to host this event. We look forward to next year!