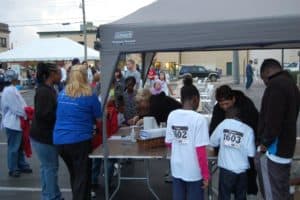 At Marks & Harrison we love a little friendly competition! The City Point 5k race is the perfect place to get our competitive juices flowing, while also giving back to the Hopewell community.
Our firm has sponsored and participated in the City Point 5k for the past 2 years. The annual race supports the Hopewell Recreation and Parks Foundation and Hopewell Public School Foundation, organizations that provide healthy opportunities for our area students.
The race included the Fit for Life Kids Challenge. To complete the Challenge, area students in grades two through six ran 12 miles over a five-week period and finished their last mile at the City Point 5k.  The school with the highest student participation would win recognition and a cash award.  The student turnout was great, and there was a tie for first place between Dupont Elementary and Patrick Copeland Elementary!  What a super way to get healthy!  To learn more about the Fit for Life Kids Challenge, go to: http://www.citypoint5k.org/kids.htm.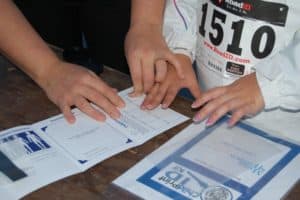 With all of the student participants and their parents, there was a wonderful opportunity to address kids' safety (in addition to their health) by administering child I.D. kits from our sponsor booth. The I.D. kits are a great way for parents to keep vital information on-file, in case a child ever goes missing. The information in the kit includes fingerprints, a DNA sample, and other useful identifying info.
Of course, a missing child is the last thing we ever want to think about. But, as Hopewell Sheriff Greg Anderson explains, the kits are an important tool for families to have on file.
"We hope that no one ever experiences the horror of a missing child," said Anderson. "But, with nearly 800,000 children reported missing nationally each year, child identification kits are a critical tool that authorities can use to locate a young person in an emergency. For your child's safety, I hope all parents will take five minutes to complete a kit."
Many thanks to my fellow Marks & Harrison employees, Tonda Huddleston.  Together, we handed out or administered about 80 kits at this year's race!
Healthy and safe – a combination for kids that can't be beat!
Please leave a comment if you've completed a kit for your child. And if you have any questions about these child I.D. kits, I'm happy to answer them. Thanks!