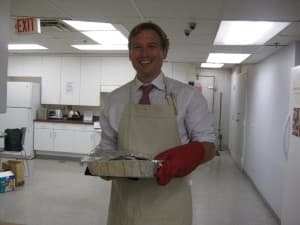 On Monday, June 6, 2011, James Mick Kessel joined with several members of Spotts Fain law firm to prepare and serve an Italian meal to the guests of Hospital Hospitality House. The theme was a "cookout" indoors and included several homemade dishes such as brats, roasted peppers, hotdogs, potato salad, and several pies in the hope of giving the guests a little taste of home while their loved ones get well.
Hospital Hospitality House is located at 612 East Marshall Street in Richmond and "provides lodging and non-medical services to families and individuals in medical crisis. Guests are referred from physicians, staff and social workers from area hospitals… Referred families are served with dignity, integrity and without regard to financial resources."
Hospital Hospitality House Website: www.hhhrichmond.org/hhh/.