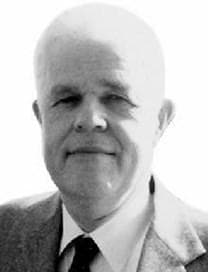 Marks & Harrison announces with sadness the death of James M. Minor, Jr. on November 13, 2015. James M. Minor, Jr. practiced in the Firm's Richmond office from 1994 until his retirement in 2001. He was a Richmond native, a graduate of Richmond public schools, the University of Richmond, and the University of Richmond's T.C. Williams School of Law. Mr. Minor was born on August 14, 1927 and served his country in the Navy. Mr. Minor died peacefully in his home.
Mr. Minor practiced law for over 50 years and developed a reputation as a fierce advocate for his clients. He left an outstanding track record as a trial lawyer and leader in many organizations – among them the Richmond Bar Association, the Virginia Bar Association, the American Bar Association, and the Richmond Trial Lawyers Association. He was one of the early members of the Virginia Trial Lawyers Association and served as its first Treasurer. He was a Governor of both the Virginia Trial Lawyers Association and the Association of Trial Lawyers of America. He was a member of the Bar of Council of the Virginia State Bar. Mr. Minor was one of the first Virginia lawyers certified by the National Board of Trial Advocacy and was a member of the American Board of Trial Advocates.
Mr. Minor conveyed his fierce approach to advocacy to all the members of Marks & Harrison and mentored many of the current members of the Firm as he had done young lawyers throughout his career, including the current Chief Justice of the Supreme Court of Virginia, the Honorable Donald W. Lemons.
Mr. Minor was not only an extraordinary lawyer but also committed to his community. He was a Sunday school teacher at Northminster Baptist Church and later a member of Second Baptist Church. He was a long-time supporter of the Salvation Army and was an early board member at a time when its members broke bread with men who were living at the Army-run facilities. Mr. Minor worked the kettles and rung the bells during the holidays for the Salvation Army.
Mr. Minor was also an active business man and was Founder of the Second National Bank of Richmond, serving on its Board as a Director and Counsel. Mr. Minor's commitment to the law and to this community helped set the standard for Marks & Harrison and his death is a loss to his family, his community, and this Firm.