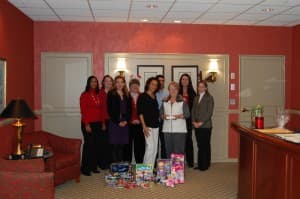 Tis the season for office holiday parties.  Every year, Marks & Harrison employees from all of our offices come to Richmond to celebrate together over brunch. This year's gathering was extra special since we were able to donate toys we've been collecting for a local family.
Jenny Kennedy from Chesterfield County Schools joined us for brunch and picked up toys for the special family. It really put everyone in the holiday spirit.
In addition to this year's toy drive, Marks & Harrison employees raise money year-round for another important cause by wearing an item found in almost everyone's wardrobe: jeans.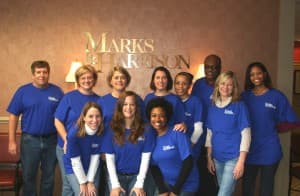 When you come to the offices of Marks & Harrison on a Friday during the year, don't mistake our dressed down attire for being overly relaxed. What you're seeing are attorneys and staff participating in our Casual for a Cause program, which benefits families in need during the holiday season.
Employees can pay $3 every other week throughout the year for the opportunity to ditch the tie, slide on some flats and wear jeans on Fridays. For the cost of a cup of coffee, those who participate can dress down and be comfortable on the last workday of the week, all while feeling good about contributing to the pot to help others at the end of the year.
This is the program's second year, and we're looking forward to helping make the holidays brighter for more families in Central Virginia.
Stay tuned to Order in the Court; we'll be following up in a couple of weeks to let you know how many families we helped this year.
Does your workplace have a Casual for a Cause program? Tell us about it in the comments below.