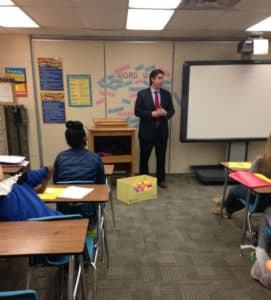 Marks & Harrison attorney Lee J. Bujakowski got to spend some time with the Wildcats of Carter G. Woodson Middle School for Career Day last week.
Lee talked to the students about the education required to become a lawyer and how attorneys like him and the rest of us here at Marks & Harrison help and protect the rights of people who have been unfairly injured.
"I really enjoyed seeing and hearing from some bright and responsive young minds on my visit to Woodson Middle School," Lee says. "I was also impressed with the amount of parental involvement in Career Day. They have a good program going on at Woodson Middle."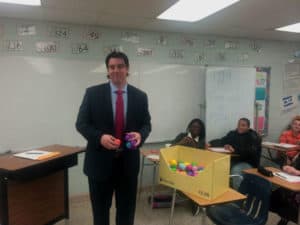 Lee also allows that legal assistants at Marks & Harrison's Hopewell office suggested that as part of his presentation he hand out Easter eggs with candy and his business card inside. That gesture "made me a huge hit with the kids," he says.
Personalized client services. We're all about that.
Thanks again to the educators and students at Woodson Middle for making Lee feel welcome.