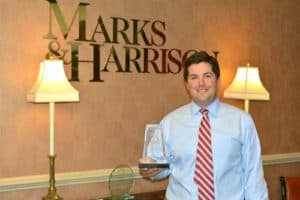 Joel R. McClellan of Marks & Harrison was awarded the Outstanding Service Award from the Young Lawyers Conference (YLC) of the Virginia State Bar. McClellan accepted the award at the annual YLC Reception during the Virginia State Bar Meeting on June 19th in Virginia Beach.
The award honors an outstanding young Virginia lawyer who has demonstrated dedicated service to the YLC, the profession and the community. McClellan received this award in recognition of his hard work and dedication in organizing the Professional Development Conference in Richmond.
The Young Lawyers Conference (YLC) is an arm of the Virginia State Bar, the state agency charged with regulating lawyers licensed to practice in Virginia. The YLC is an organization through which young lawyers can participate in Virginia State Bar activities and serve the legal profession and the public. The YLC promotes high standards of professionalism and competence, improving the legal system, and improving the legal system's responsiveness to the public.