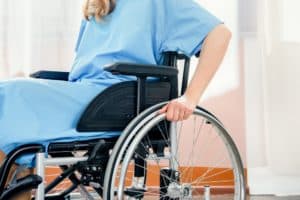 A person that suffers severe injury or illness typically will be unable to return to work for a significant period of time. During this time, the person likely will also incur medical expenses in addition to everyday living expenses. However, in some cases, compensation may be available to help the person to get through this difficult period of time such as workers' compensation or short-term disability insurance benefits.
The main difference between workers' compensation and short-term disability insurance is that workers' comp is available for individuals that have been injured on the job or suffer from an occupational disease. Short-term disability, on the other hand, is not limited to work-related injuries or illnesses. For instance, a person may be able to claim short-term disability due to injuries which the person suffered in a car accident while conducting personal business.
Here, we take a closer look at short-term disability. If you would like to discuss specific issues that you are facing with short-term disability and/or workers' compensation benefits in Virginia, please feel free to speak with an attorney at Marks & Harrison. Our initial consultations are always free and confidential.
How Do You Receive Short-Term Disability?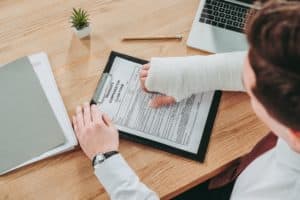 In order to receive short-term disability benefits, you must have purchased an insurance policy prior to suffering the injury or developing the illness that prevents you from working. For example, if a woman became pregnant and then purchased short-term disability insurance, she likely would not be eligible to receive those benefits to cover time off from work to care for her baby. Most short-term disability insurance policies would treat the pregnancy as a "pre-existing condition."
State employees are actually automatically enrolled in a short-term disability program. So, they can be eligible to receive benefits through the Virginia Sickness and Disability Program. However, as with private policies, the state-employee program does not cover pre-existing conditions.
How Much Money Can You Get from Short-Term Disability?
Short-term disability payments vary depending on the policy purchased and the policyholder's weekly salary. Benefits are typically paid up to a fixed maximum rate which the plan outlines. For example, a policyholder may be entitled to 60 percent of his or her weekly salary – up to a maximum benefit of $1,500. The salary amounts which are used to calculate the benefits are typically rounded according to the insurance company's rules. So, if a person earned a salary of $52,500, the insurer may round that down to $52,000.
In most situations, short-term disability benefits are considered "post-tax." In other words, the insurance company uses a person's net income to calculate their benefits. In some situations, a person may be asked if he or she prefers to use gross income instead. This choice may allow the person to collect more in benefits. Regardless, the amount of benefits will never exceed the policy limits. So, even if a person technically would be eligible to receive $2,000 in benefits based on net or gross income, the person's insurance policy may still cap the person's benefits at $1,500.
What Injuries Does Short-Term Disability Cover?
There is no fixed definition of a "disability" for individuals covered by a short-term disability insurance policy. The policy itself will define what a "disability" under the policy is. However, generally speaking, most short-term disability policies will cover any injury, illness or other medical condition that prevents a person from being able to work for a prolonged period of time. The disability could result from:
Childbirth
Major surgery that requires a long recovery time
Sickness that requires regular and ongoing treatment
An injury sustained in an accident such as a car crash or a slip and fall.
Any time someone sustains an injury or develops a medical condition which prevents them from being able to work and earn income, they should always check their policy. The policy should provide a full explanation of the types of disabilities which it covers as well as the terms of the coverage.
What Injuries Does Workers' Compensation Cover?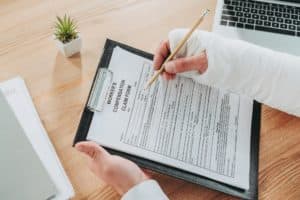 Workers' compensation benefits should be available for most workers in Virginia if they have suffered a workplace injury or developed an occupational disease. The injury or illness must have been sustained at work or while the worker was performing duties related to the job. These injuries or illnesses typically include muscle or tendon sprains, strains, or tears, broken bones, cuts, lacerations, burns from heat or chemicals, traumatic brain injury, musculoskeletal injury or respiratory illnesses.
Again, the key difference between short-term disability insurance and workers' compensation benefits is that short-term disability is not restricted to work-related injuries or illnesses.
What Do You Need to Prove to Get Short-Term Disability?
Unfortunately, simply telling your insurance carrier that you have become injured is not enough to receive benefits. You will have to submit proof of your injuries and show that you are unable to work. Before you submit your claim, your treating physician will likely need to sign a form in which the physician verifies that you cannot work due to your injury or illness.
You may also need to submit medical evidence that verifies your claim such as test results or medical billing records. The insurer will review this evidence in order to determine whether it is consistent with your claim for short-term disability benefits.
Our Virginia Workers' Compensation Lawyers Can Help with Your Claim
If you have been injured on the job, or if you suffer from an occupational disease, you may be entitled to workers' comp benefits. If you have purchased short-term disability insurance, your policy may entitle you to benefits as well. However, insurance companies often do not want to pay these claims.
If you find that an insurer is trying to deny, delay or reduce your benefits claim, our disability lawyers at Marks & Harrison are here to help you. We will aggressively pursue any compensation you deserve. It starts with a free consultation. Contact us today to discuss your case at any one of our 10 offices located throughout Virginia.