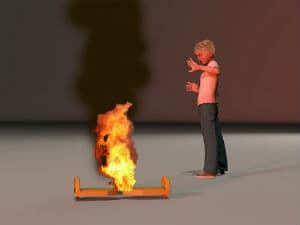 If you have yet to be walking along when you see a person – typically a teenager – riding on an odd contraption that is unlike anything that you have ever seen before, do not be surprised if you feel as though you are reliving a scene from the Back to the Future movie.
The hoverboard is here. It has made headlines as the toy of today, and it was a top gift for Christmas 2015.
However, new reports are scrutinizing the safety of these futuristic toys. Many people have reportedly been injured while riding them, and concerns have been raised about fires associated with these toys.
If you are the current owner of a hoverboard or are considering purchasing one, here are some hoverboard safety issues of which you should be aware.
If you would like to learn more about your legal rights after a hoverboard-related accident, contact a personal injury attorney from Marks & Harrison today. We serve Richmond and communities throughout Virginia.
What Are Hoverboard Safety Concerns?
Hoverboards are devices that resemble skateboards. However, a person rides one from a standing position with both hips facing forward.
Among the concerns surrounding these toys are the risks of falls and fires. According to the New York Times, the Consumer Product Safety Commission (CPSC) has, at this point, logged 29 hoverboard-related emergency room visits – most of which were fall-related – and 11 reports of fires in 10 different states.
While a fall may be a danger that is inherent with riding any device of this nature – be it a scooter, skateboard or bike – fires and explosions may potentially be a result of a device defect.
The hoveboard fires can apparently happen with very little warning. As a video published in The Verge illustrates, a hoverboard explosion may occur suddenly and unexpectedly. As demonstrated in the video, the fires are more than just a little smoke. The explosion and the flames that accompany it are large enough to possibly cause serious injuries.
Injuries may not be the only thing that consumers need to worry about. WGNO reports that, in late November 2015, an exploding hoverboard resulted in the destruction of a home in Louisiana.
Hoverboard Safety Fears Result in Bans
In light of concerns about hoverboard explosions, many retailers have stopped selling these toys. In addition to getting the boot from physical and online retailers such as Overstock.com, hoverboards have been banned by the U.S. Postal Service for shipping by plane.
In the United Kingdom, hoverboards have been confiscated, and governments have issued safety warnings about the devices.
It is important to note that multiple companies make hoverboards. Some companies have announced that they are coming out with new flame-retardant models.
What Could Make a Hoverboard Explosive?
According to professionals such as Jay Whitacre, a professor of materials science and engineering at Carnegie Mellon University who was quoted by the New York Times, a possible reason for hoverboard explosions and fires may lie in the lithium ion batteries that the devices feature.
Lithium ion batteries are known for their ability to pack a whole lot of energy into a small area, making them popular in things like cell phones and laptops. However, lithium ion batteries also have their drawbacks. When these batteries overheat — even ones of the highest quality — they can explode.
Whitacre told the Times that knowing which batteries might fail can be nearly impossible. This is because "catastrophic failure likely will not manifest until the battery is fully charged and discharged several times."
What Should You Do If You Own a Hoverboard?
If you own a hoverboard, be aware that it may be defective. If you are set on keeping the toy, a news release by the National Association of Fire Marshalls suggests that you:
Let the device cool off entirely after use before charging
Don't leave the device unattended while it is charging
Never overcharge the device.
Other recommendations include wearing appropriate equipment while riding a hoverboard and keeping an eye out for any signs of overheating. If overheating is noticed, the device manufacturer should be notified as the battery may be in need of replacement.
Who Could Be Liable for Harm Caused By an Exploding Hoverboard?
A hoverboard explosion and other hoverboard safety issues raise questions about who could be liable in the event that hoverboard use results in an injury.
If the injury occurred as a direct result of a hoverboard defect, then the manufacturer of that hoverboard could be held liable for any damages. Types of product liability defects include:
Design defects – The device was defective in its design and thereby inherently dangerous and risky for consumer use.
Manufacturing defects – Unlike a design defect, a manufacturing defect means that the design of the device was safe, but something happened during the manufacturing process such as a contamination of construction materials to make the device unsafe.
Warning/labeling defect – Finally, a warning or labeling defect means that the warning label on the device did not properly inform a consumer of how to use it and potential risks of use.
In the case of hoverboards that explode, manufacturers could be held liable under one or all three theories of product liability listed above. Again, it must be proven that your injuries would not have occurred but for a design, manufacturing or warning/labeling defect.
A product liability lawsuit can yield compensation not only for the cost of the device but also for any medical bills, property damage and even pain and suffering. An attorney can help you to establish whether you are entitled to these damages.
Contact a Richmond Personal Injury Attorney Today
When you have been injured by a hoverboard or other defective product, the last thing that you want to deal with on your own is filing a product liability claim. To guide you through the process, the attorneys at Marks & Harrison are here to help.
Serving Richmond and areas throughout Virginia, our personal injury team knows what it takes to pursue compensation for our clients. If you have legal questions, we have answers. Contact us today by calling our offices directly or requesting a free consultation using our online form.