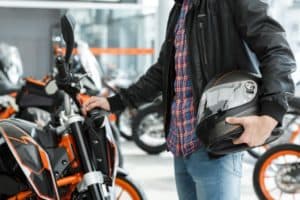 To ride a motorcycle in Virginia, a person first needs to obtain the proper driver's license designation. If the person owns a motorcycle, they must get a Virginia title, registration card and a license plate. Additionally, before riding, a person must make sure that they wear a protective helmet.
While helmets can certainly help to prevent traumatic brain injury (TBI) and, potentially, spinal cord injury (SCI), they cannot prevent other injuries involving other parts of a motorcyclist's body when a motorcycle accident happens. If you suffered severe injuries, or if your loved one was killed in a motorcycle crash caused by another party's negligence, it will be critical for you to get legal help as soon as possible.
Marks & Harrison is headquartered in Richmond and assists clients through nine other offices located throughout Virginia. We can put more than 305 years of combined legal experience and a proven record of success on your side. Call or reach us online today to learn more in a free consultation.
Virginia's Mandatory Motorcycle Helmet Laws
Virginia Code § 46.2-910 establishes that any person operating a motorcycle must wear a face shield and safety glasses or goggles, or have their bike equipped with safety glass or a windshield. All motorcycle operators and passengers are also required under this statute to wear protective helmets.
The Virginia Department of Motor Vehicles (DMV) states that motorcycle operators and passengers must wear an approved motorcycle helmet that meets or exceeds the standards and specifications of the Snell Memorial Foundation, the American National Standards Institute, Inc., or the U.S. Department of Transportation (DOT). Each of these entities has different standards, with DOT relying on Federal Motor Vehicle Safety Standard 218, while Snell sets voluntary standards.
How a Helmet Can Help in a Motorcycle Crash
As the DMV states, a rider without a helmet is 40 percent more likely to suffer a fatal head injury than a helmeted rider. According to the DMV, helmets are approximately 29 percent effective in preventing motorcycle deaths and around 67 percent effective in preventing TBIs.
Helmets provide an insulated cushion around the motorcyclist's skull. This protection becomes very important if a motorcyclist is thrown from the bike for any reason. Motorcyclists can easily strike other objects or even the ground with tremendous impact. A helmet will help to minimize the effect of the impact on a person's brain and head as well as the neck and spine.
Without helmets, riders face the risk of suffering catastrophic injuries in the event of a crash. In addition to TBI, many victims suffer spinal cord injuries that lead to possible paralysis.
The Governors Highway Safety Association (GHSA) reports that if all motorcyclists in fatal crashes in 2016 had worn helmets, an estimated 802 lives could have been saved. Helmets saved 1,859 motorcyclist lives in 2016, according to the GHSA.
In addition to safety risks, failure to wear a helmet could affect one's legal claim after a crash. An insurance company may argue that a motorcyclist who did not wear helmet effectively contributed to or even caused his or her injuries, and the insurer may use it to try to deny or minimize a claim.
Follow These Motorcycle Safety Tips
In addition to making sure that they wear required safety gear, motorcyclists should do what they can to make themselves visible. Dressing in brightly colored clothing can help. You should also make sure that your lights are working. After all, many accidents occur because other drivers did not see motorcyclists on the road.
Be mindful of the impact that inclement weather will have on your ability to handle your motorcycle. Always try to give yourself ample space between your motorcycle and other vehicles in case there are any unexpected movements.
New riders should not hesitate to take a motorcycle safety course. Beginners should stick to the roads that do not require much experience to navigate.
Always keep your speed in mind. The feeling of being on a motorcycle often leads to many people disregarding the speeds at which they are traveling. However, you cannot stop in time when you are going too fast.
Finally, make sure that your motorcycle is adequately maintained. Do not skip out on necessary appointments with your mechanic, as you need to know that your motorcycle is in safe condition in order to avoid possible accidents caused by old and worn parts.
Why Should You Contact a Lawyer?
Many people who are injured in motorcycle crashes believe that, because the other driver was at fault, their injury claims should not be complicated. However, they quickly learn that insurance companies will challenge claims and make it difficult to recover the compensation which motorcycle accident victims are due.
If you recently were injured or lost a loved one in a motorcycle accident in Virginia, an attorney from Marks & Harrison will conduct a thorough investigation of the crash, calculate your damages and represent you in all settlement negotiations with an insurance company. If the insurer challenges liability or the amount of damages which you deserve, the lawyer can take your case to trial if that's what it takes.
Our Virginia Motorcycle Accident Attorneys Can Help You Today
Did you sustain catastrophic injuries, or was your loved one killed in a motorcycle crash caused by another party's negligence in Virginia? We have protected victims of negligence in Virginia for more than 100 years. We can go to work for you today. Contact Marks & Harrison, today for a free consultation.