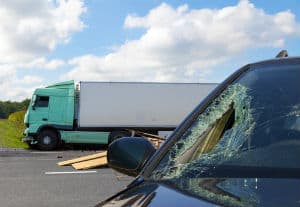 When you are driving on the highway in Virginia, surrounded by massive tractor-trailers, it is easy to feel intimidated. After all, tractor-trailers can weigh up to 80,000 pounds.
Because of their size, these large commercial trucks require substantially more distance than a standard passenger car in order to come to a complete stop. If you cannot give a truck the stopping distance it needs, or if you accidentally get yourself into one of its blind spots, you face an increased risk of being involved in a severe crash.
According to the Federal Motor Carrier Safety Administration, 4,186 large trucks and buses were involved in fatal collisions during one recent year, with most of those victims being the drivers and passengers in the other vehicles involved in the crash.
As a motorist who must share the roads in Virginia with tractor-trailers, it is important that you know how to coexist safely with them and what to do if you are involved in a collision with one.
Call the police.

If you or anybody else in the accident is in need of immediate medical attention, call 911 to send for an ambulance. Otherwise, ask for a police officer or state trooper to be dispatched to the scene.

The officer will complete the official police report of your accident, which you will need later on to investigate your claim. Be sure to take down the officer's contact information and badge number in case you need to contact him or her later on.

The Virginia Department of Motor Vehicles (DMV) keeps police accident reports on file for three years after the accident. You can request a copy of the report in your case by going to the DMV website.

Seek medical attention.

After leaving the scene, your next goal should be to get medical attention as soon as possible. To support your personal injury claim later on, you will need proof of a diagnosis and evidence that you were proactive about seeking medical care for your truck accident-related injuries.

Once you have received a treatment plan from your doctor, make sure to follow the plan. If you do not obey your doctor's orders you will have to suffer through a much longer recovery period and may also face problems in your claim for compensation.

Report the accident.

You will need to report the truck accident to your insurance provider. Do not make a statement about who was at fault in the accident. The insurer may try to use any statement you make to minimize or reduce any claim you end up filing with the insurer such as an uninsured / underinsured motorist (UM / UIM) claim.

While you may need to report your accident to your own insurer, you do not need to report it to the insurer for the truck driver / trucking company involved in your accident. If you are contacted by the insurer, you should not give a recorded statement. Instead, simply refer the insurer to your lawyer.

Additionally, never accept a settlement offer or sign any documents that are presented to you by an insurance company until you have spoken with an experienced truck accident attorney. The settlement amount may be for far less money than you are entitled to receive.

Gather your documents.

Create a folder that contains photos, medical bills, car rental receipts, insurance company policies, letters from insurance adjusters and all other items that are related to your accident. You don't want to lose any of these items. Also, keep contact information for any witnesses to the accident

Contact an attorney.

It is very important to act quickly after you are involved in a collision with a commercial truck driver. Trucking companies and their insurers are very aggressive when it comes to protecting their financial interests. You will need to have an attorney by your side as soon as possible in order to protect your rights.

For instance, evidence that can be collected and analyzed in a truck accident case includes the truck's electronic data recorder (EDR, or "black box"), the company's driver qualification file, logbooks documenting the driver's hours on the road and truck inspection and maintenance records.

A lawyer can take immediate steps to make sure this evidence is preserved, including sending a letter to the trucking company to give the company notice that legal action is pending.

As mentioned above, the trucking company's insurer also will be forceful when it comes to contacting you. A lawyer can deal with the insurer on your behalf. Meanwhile, you can focus on your physical recovery and on getting past the traumatic experience you have been through.

If a trucking company makes a settlement offer to you, a lawyer can review the offer and help you to determine whether it fully and fairly compensates you.

In particular, the lawyer can review all of your medical records and medical bills, documentation of the time you have missed from work and evidence of how your truck accident-related injuries have impacted your life.

The attorney can also consult with doctors, nurses, life care planners and others in order to determine your future medical needs and whether you will be able to work in the future.

All of this information can be used to calculate the past and future medical expenses, past and future lost income, pain and suffering and other damages you should seek if you have been harmed by a negligent truck driver.
Get Help from Our Virginia Truck Accident Lawyers Today
Marks & Harrison has extensive experience with representing the victims of tractor-trailer accidents in Richmond and throughout Virginia. Attorney John C. Shea serves on the National Advisory Board of the Association of Interstate Trucking Lawyers of America. We are ready to put our legal team on your case today.
Contact us today to receive a free initial consultation by phone, at one of our nine offices located throughout Virginia or at any location that is most convenient for you.