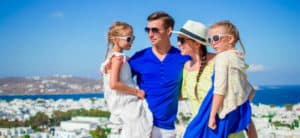 Do you plan to pack your family into the car and go on a road trip this summer? You are not alone. More than one-third of Americans take trips during the summer to a vacation spot 50 miles away or more from home, according to a 2016 AAA survey.
As you plan your summer getaway, please keep the following road trip and summer vacation safety tips in mind in order to avoid the risk of personal injury, theft and other issues.
If You Are Driving …
Driving is a major part of the adventure when you go on a summer trip. However, if you fail to follow a few basic precautions, you may end up facing more adventure than you would like. Please take these steps to ensure you enjoy a safe and secure journey.
Make sure your vehicle is up for the challenge. The last thing that you want to have to deal with during a summer road trip is an issue with your vehicle, including an issue that leads to a serious car accident. If it has been awhile since your car was in the shop for maintenance or repairs, you should check your tires, change your oil and make sure all of your fluids are topped off. During long road trips, your tires are especially important. Improperly balanced tires, low tire pressure and defective tire tread can lead to tire blowouts.
Insist that everyone wears seatbelts. Road trips can get uncomfortable. Few people enjoy sitting in one position for hours at a time. But no matter how uncomfortable those in your vehicle may feel or how much your kids complain, insist that everyone stay buckled at all times. In the event of a crash, being unbuckled significantly increases the risk of serious injuries or death.
Get plenty of rest. One of the most dangerous things that a driver can do during a road trip is to insist on doing the entire trip in one shot or in long intervals of driving – even when the driver is tired or deprived of sleep. Studies show that fatigued driving presents dangers similar to drunk driving. Driving while fatigued significantly impairs one's ability to function. Make sure that when you plan your road trip, you know where you will stop to sleep, eat, stretch your legs or just take time to rest.
Pack an emergency kit. You packed your beach clothes, your favorite summer read and, of course, road trip snacks. Did you pack a car emergency kit? If you are involved in an accident, or if you experience a roadside breakdown, an emergency kit handy will be a lifesaver. You should pack your emergency kit with flares, flat tire repair tools, jumper cables, first aid supplies and enough food and water for everyone in your vehicle for at least one full day.
For General Summer Travel…
Whether you drive to your summer vacation destination or not, you can do many different things to stay safe.
Watch where you are going. If you travel to a new and unfamiliar place, you may find yourself looking around and in awe of all of the attractions. The problem with looking at buildings or other attractions is that it means your attention is typically diverted from other important tasks like walking or driving. If you are in a new place, pay attention to where you are going. You don't want to get lost or, worse, involved in a car, motorcycle, bicycle or pedestrian accident.
Exercise caution if you vacation at the pool or on the beach. Every year, numerous people drown in pools, lakes and rivers while on vacation, including many young children. The World Health Organization reports that drowning is the third-leading cause of death worldwide. You can ensure your safety by consuming no alcohol when you are around water. Also, you should supervise your children in the water at all times, even if they have taken swim lessons. Talk to the children about the dangers of roughhousing around pools and slippery areas and warn them to never dive in shallow waters.
Don't make yourself a target. If you travel to a new location – especially one that is popular for tourists – you should know that pickpocketing and theft may be common problems. You can reduce your chances of being a victim of theft by avoiding wearing expensive jewelry or other "standout" items. You should always use a bag that zips completely. Keep the bag near the front of your body. If possible, you should avoid wearing a backpack.
Be safe in the heat. Heat and the summer sun can be very dangerous. You can experience a great deal of pain from a sunburn. The burn won't just ruin your vacation. It could also lead to serious health problems. Dehydration and heatstroke also can be real threats when you spend several hours in the sun. If you plan a day outside, make sure that you have plenty of coverage and stay hydrated. If it is really hot, get indoors.
At Marks & Harrison, our experienced Virginia personal injury attorneys hope that the above road trip and summer travel advice tips help to keep you safe while you enjoy fun in the sun with your family this summer.
If you are involved in an accident or suffer an injury caused by the negligence of another party, please contact us for a free, confidential consultation. We have served clients for more than 100 years and offer nine offices located throughout Virginia.  Reach us today to learn more.