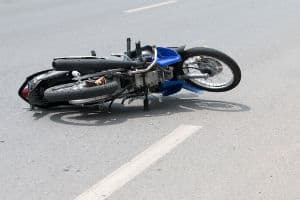 Motorcycle crashes in Virginia occur on a regular basis. In one recent year, 2,005 motorcycle accidents occurred in the state, the Virginia Department of Motor Vehicles reports.
Like those in accidents that involve cars or trucks, motorcyclists injured in an accident caused by another's negligence have the right to seek damages for their injuries. The at-fault driver's insurance should cover your injuries.
For many reasons, it is important that you take action quickly after a crash occurs in order to protect yourself. Here are some things to do as soon as possible following a motorcycle accident:
1. Report the accident to the police.
The first thing you should do – if you are physically capable and your injuries do not require emergency care – is to report the accident to the police. It will be important that you give the police an accurate description of what happened. You should request a copy of the police report.
You should also get the other driver's information and the information of any witnesses to the accident. If you do not report the accident, you may have a difficult time convincing the insurance company (or a court) that you were not at fault and suffered injuries as a direct result of the accident.
2. Seek medical care.
If your injuries are serious, you should prioritize seeking medical care over notifying the police (but be sure to notify the police of the accident as soon as you are able to do).
Seeking medical care is arguably the most important thing you should do after a motorcycle crash for two reasons: First, seeking medical care is important because it helps protect your health and safety. Failing to seek medical care may lead to serious harm. For example, if you do not seek medical care for a concussion,  it may worsen, and you may be at a greater risk of a more significant injury.
Second, seeking medical care establishes proof that you suffered an injury as a result of the accident.  Recovery of damages from the at fault driver depends on you proving the nature and extent of your injuries.
When you seek medical care, be sure to keep thorough documentation of all treatment you receive. This includes medical or hospital bills, your personal medical record, prescriptions, doctor's notes, a calendar of dates and times you see the doctor and any other relevant materials.
3. Gather evidence.
As soon as you are able, you should gather evidence that will be useful when filing your claim. Types of evidence you should collect include:
Photos of the accident scene
Photos of the vehicles involved in the accident, including your motorcycle
Photos of your injuries
Photos of any important pieces of evidence related to the accident such as, weather conditions, traffic signs and skid marks
The contact information, insurance information and vehicle registration information of the other driver involved
The names and contact information of any witnesses to the motorcycle crash
Medical bills and records
Any other evidence that might be used to establish your right to compensation.
If you are unable to gather evidence, your attorney and their team can work to gather evidence on your behalf and organize that evidence in a compelling manner that aids your case.
4. Notify your insurance company.
You must carry motorcycle insurance in Virginia. While you will be filing a claim with the at-fault driver's insurance company, you should report the wreck to your insurance in the event you need to file a claim. For example, you may need to file a claim with your insurance company if you are injured by a hit-and-run driver, a driver with no liability insurance or a driver with insurance that fails to fully cover your medical expenses, lost wages and other damages.
This is why you should still notify your insurance company of the accident as soon as possible. In fact, your insurance policy may have a provision that makes this notice mandatory.
5. Schedule a free case consultation with an attorney.
Scheduling a free case consultation with a Virginia motorcycle accident attorney as soon as possible after a motorcycle crash is also one of the most important things that you can do – especially if:
You are injured
Fault is disputed
You are confident that the other driver's negligence was the cause of the accident.
At Marks & Harrison, we offer free, no-obligation consultations. We believe that a consultation provides an opportunity for you to ask an attorney questions about your accident, and for you to receive advice about the best strategy for pursuing compensation for your injuries.
With offices across the state of Virginia, the motorcycle accident attorneys of Marks & Harrison are ready to meet with you today to discuss your crash and help you to explore your legal options. To schedule your free case consultation today, call our offices directly or tell us more about your case by filling out our online form