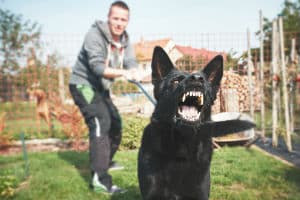 Dog bites pose a serious problem in Virginia and across the country. The American Veterinary Medical Association reports that, each year, dogs bite or attack an estimated 4.5 million people in the U.S., with roughly one out of every five of those victims requiring medical attention. In many cases, the dogs who commit these attacks are unleashed and roaming through neighborhoods and parks.
Virginia has no statewide "leash law" that seeks to protect people from getting bitten or attacked by unrestrained and uncontrolled dogs. However, many municipalities in the state have enacted leash laws that address this issue. The specific duties that each law imposes on dog owners slightly varies from community-to-community.
Dog owners in Virginia have an obligation to know the leash laws that apply to them and their pets. More importantly, they have a duty to abide by those laws. If a dog owner violates a local leash law, and another person suffers harm as a result of that violation, the dog owner could potentially be held liable in a personal injury or wrongful death claim.
As a law firm that represents dog bite victims and their families in Richmond and throughout Virginia, we thought it would be helpful to explain how leash laws work in our state. Here, we also discuss your legal rights and options if you suffer harm due to a dog owner's violation of a local leash law.
Virginia's Leash Laws
As we mentioned above, Virginia lacks a uniform leash law that applies to every dog owner in the state. However, two laws empower local governments to enact ordinances that:
Prohibit dog owners from letting their pets run "at large" ( Code § 3.2-6538); or
Require owners to keep their dogs on a leash or otherwise restrained when the dog is off the owner's property ( Code § 3.2-6539).
For example, the City of Richmond has an ordinance that requires all dogs to be "kept under restraint or confined in an enclosure." (Richmond City Code § 4-243). Note that this law applies to "all" dogs and not just certain breeds or to dogs that have been deemed to be "dangerous" or "vicious." Richmond also prohibits dogs from being allowed to enter certain city parks, regardless of whether the dog is on a leash.
Charlottesville is another city which has enacted a leash law. Under Charlottesville City Code § 4-38, it is unlawful for the owner of any dog to allow the dog to "run at large, at any time, within the city." However, if the dog is sterilized and "within the immediate voice control of its owner," the dog is not considered to be "at large." So, the owner does not need to keep the dog leashed. (Still, in certain areas such as city parks and along the greenway trail system, the owner must keep the dog leashed regardless of whether it is sterilized and within the owner's immediate voice control.)
If you do not know the leash laws in your community in Virginia, you should contact your local animal control office. You can also look up the leash law online by going to the city or county government website or visiting MuniCode.com.
What Happens If a Dog Is Off-Leash and Attacks Someone?
Did an unleashed dog attack you or a loved one? If so, you may be eligible to seek compensation for the harm you have suffered, including compensation for your past and future medical expenses, lost income, diminished earning ability, pain, suffering and more. This is because Virginia law allows dog bite victims to hold dog owners liable for their injuries under two theories:
The One-Bite Rule Unlike many other states, Virginia has no "strict liability" dog bite statute. However, a dog bite victim may be able to bring a claim against a negligent dog owner under the "one-bite rule." Under this rule, you can establish your right to recover compensation if you can show that the dog's owner knew or reasonably should have known that the dog was dangerous or aggressive, and the owner acted negligently in light of that knowledge. A dog owner's failure to keep a dangerous and aggressive dog on a leash would be an example of this type of negligence.
Leash Law Violations You can also establish a dog owner's liability for a dog bite by showing that the owner violated a local leash law such as the ones in Richmond or Charlottesville that we discussed above. You would also need to establish that, as result of that violation, you or a loved one suffered injuries. This theory of liability is called negligence per se.
Get Help from an Experienced Virginia Dog Bite Attorney
When dog owners fail to comply with local leash laws or to otherwise act reasonably when they know that their pets are dangerous and aggressive, they put others at risk. Such negligent dog owners must be held accountable.
If you suffered injuries in an attack involving an unleashed dog, you should protect your rights by seeking help from an experienced dog bite attorney. The lawyer can take immediate steps to investigate your case and pursue all compensation that you are due.
At Marks & Harrison, we have a long record of assisting dog bite victims in Virginia, including cases in which children have suffered harm. We can put our skills and knowledge to work for you today. Contact us for a free consultation through our office in Richmond or one of our eight other offices located throughout Virginia.