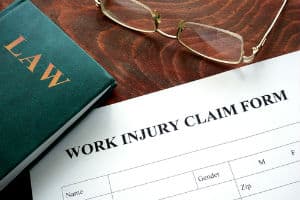 If you have been injured in a workplace accident in Virginia, you likely have questions about whether or not your injury is covered under workers' compensation insurance.
A Virginia work injury attorney can work with you to help you determine whether or not your injuries are covered, and if so, what benefits you may be entitled to receive.
If you have been injured on-the-job, do not wait to take action. You should call a lawyer today to learn about Virginia workers' compensation benefits.
Who Is Eligible for Workers' Compensation Benefits in Virginia?
The first thing that you should know is who is covered by workers' compensation insurance.
As the Virginia Workers' Compensation Commission notes, all businesses with more than two employees are required by law to carry workers' compensation insurance.
To clarify: The law only applies to businesses with employees. Independent contractors are not covered under workers' compensation insurance.
An "employee" is defined under Virginia law as "every person … in the service of another under any contract of hire or apprenticeship … whether lawfully or unlawfully employed."
The definition includes minors and extends to part-time, seasonal and temporary workers. As such, it's safe to say that most workers in the state of Virginia are covered by workers' compensation. If an employer is not legally obligated to carry workers' compensation insurance, he or she may choose to do so of his or her own accord.
When Workers' Compensation Benefits Can Be Recovered After a Workplace Injury
Even if you are covered under the workers' compensation system, you are not always entitled to receive them.
Workers' compensation benefits are payable only in the event that you were injured on the job or while performing a work-related activity. If you were not on a job site or were not performing a job-related task at the time of your injury, you cannot recover benefits.
Also, you cannot recover benefits if the cause of your injury was disqualifying conduct of your own. While you do not need to prove fault in a workers' compensation claim for benefits, you cannot recover damages if the accident was caused due to an illegal act such as the use of alcohol or drugs in the workplace.
Finally, workers' compensation benefits can only be paid for those injuries that are new or that are worsened by the work-related incident.
So, if you have a pre-existing condition that was exacerbated or/and aggravated by the workplace injury, you should obtain benefits. You will have to prove that the pre-existing condition was aggravated by relying on medical evidence. If the injury was not aggravated, you cannot recover any compensation for it.
What Benefits Are Provided for a Worker Injury?
The types of benefits that you may be able to seek following a workplace accident in Virginia include:
Medical benefits
Lost wages and other monetary compensation
Temporary disability benefits
Permanent partial disability benefits
Permanent total disability benefits
Death benefits.
Death benefits are paid when a workplace accident results in the death of the worker. These benefits are paid to the deceased worker's surviving spouse and/or dependent children. They include burial expenses up to $10,000, reasonable transportation expenses up to $1,000 and other compensation to dependents.
What to Do Immediately After a Workplace Injury
If you believe that you are covered under workers' compensation insurance and are entitled to any of the benefits listed above, it is important that you take action quickly following your workplace injury.
The first thing that you need to do is to report your injury to your employer. You should report that injury as soon as possible and must report it no later than 30 days from the date that the accident and injury occurred. If you do not report your injury within 30 days, then you may be barred from recovering any benefits.
Additionally, you should file your own claim with the Commission – and must do so within two years' time – to ensure that your rights are protected. You can file a claim for workers' compensation benefits in person, by mail or even by fax.
After notifying your employer of the accident as soon as possible, you need to seek medical care. If you wait too long to seek medical care, it may appear (at a later date) that the medical care was not essential and should not be covered by workers' compensation.
The sooner that you seek medical care, the more medical evidence you can begin collecting. This medical evidence may be essential in building your workers' compensation case and receiving your full benefits amount.
Finally, you should contact a workers' compensation attorney. A lawyer can help you throughout all stages of the workers' compensation claims process, from notifying your employer (if you have not already done so) to gathering medical evidence to building your case or appealing a denied claim.
How Can an Attorney Help in the Workers' Compensation Claims Process?
If you have been injured on the job, you should never assume that your full benefits amount will automatically be paid and that you will not have any complications in recovering compensation.
Unfortunately, an injured worker's benefits are often shortchanged, and he or she is not paid the amount that he or she is truly entitled to receive.
To prevent this from happening and to ensure that your rights are protected, make sure to contact the experienced Virginia workers' compensation attorneys at Marks & Harrison as soon as possible following a workplace injury. We can answer your legal questions and represent you with passion and a hard work ethic every step of the way.
We serve clients in Richmond and throughout Virginia. Call or reach us online today to schedule a free consultation.