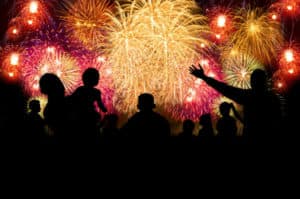 Those of us at Marks & Harrison are looking forward to the Fourth of July holiday just like other Virginians. Unfortunately, because we are personal injury lawyers, we know that the Independence Day weekend is often the summer's worst for accidents.
It doesn't have to be like that. Fourth of July accidents can be prevented with a little awareness, planning and vigilance.
We offer a few safety tips below that may be useful to think about ahead of your Independence Day celebrations. The sources we link to have more tips than we can reprint here. Let's all have a safe Fourth!
Fireworks
Many celebrations include fireworks, which is what our country's founders called for. But we were surprised by a recent report on the NBC 12 website that says on average, 240 people go to the emergency room each day with fireworks-related injuries in the month leading up to Independence Day.
In this day and age, it's safest to enjoy a public fireworks display at one the several Fourth of July celebrations across Virginia.
The VA Department of Forestry, which has obvious reasons for urging caution with fireworks, reminds us that many types of fireworks (including firecrackers, sparklers, bottle rockets, skyrockets, torpedoes and other fireworks that explode, travel laterally, rise into the air, or fire projectiles into the air) are illegal in Virginia unless you are a licensed contractor.
If you celebrate privately with fireworks:
Use legal fireworks outdoors and in a safe area away from woods, fields, grassy areas, and buildings
Never let young children play with or set off fireworks
Never re-light or immediately pick up fireworks that have not ignited fully. Douse "duds" with water.
Set up a large container of water, such as paint bucket or an unused trash can, and deposit fired fireworks in the water. Have a water hose or fire extinguisher nearby to put out stray sparks or flame.
Highway Traffic Safety
Many people will be on the road for the Fourth of July weekend, especially with July 4 falling on a Saturday. Unfortunately, too many of those on the road will have celebrated with alcohol before getting behind the wheel. Last year, eight individuals died in eight crashes during the 2014 Fourth of July holiday weekend, according to Virginia's Smart Safe & Sober Partnership.
Also last year, Virginia State Police troopers arrested 77 impaired drivers and cited 11,712 speeders and 2,673 reckless drivers, and issued 832 safety belt violations and 342 child safety seat violations. Troopers responded to a total of 566 traffic crashes statewide.
Don't be a Fourth of July statistic. The national Drive Sober or Get Pulled Over Campaign advises drivers to:
Plan a safe way home before the fun begins.
Before drinking, designate a sober driver.
If you're impaired, use a taxi, call a sober friend or family member, or use public transportation so you are sure to get home safely.
If you see a drunk driver on the road, don't hesitate to contact local law enforcement. You could save the life of someone you love.
Backyard Barbecue Safety
If your Fourth of July celebration includes a picnic, cookout or other outdoor party, keep in mind that eating outdoors in warm weather presents a food-safety challenge. The U.S. Food and Drug Administration says to avoid potential foodborne illnesses, you should:
Frequently wash your hands with soap and water for at least 20 seconds, especially after using the bathroom and before cooking or eating.
Keep raw food separate from cooked food. Don't use a plate or utensils previously touching raw meat, poultry or seafood for anything else until it has been washed.
Marinate food in the refrigerator, not out on the counter.
Cook food thoroughly. Use a food thermometer to be sure. Hamburgers should be cooked to 160°F; chicken should be at least 165°F. Here's a USDA safe minimum internal temperature chart for food.
Refrigerate or freeze leftovers promptly. Food should not be left out of the cooler or off the grill for more than two hours. Never leave food out for more than one hour outdoors when the temperature is above 90°F.
Swimming and Boating Safety
If you plan to go to the pool, lake or beach for the Fourth of July, remember to respect the potential danger of water. The Centers for Disease Control and Prevention offers these water safety tips:
An adult should constantly watch children who are swimming or playing in or around water. When supervising preschool children, stay close enough to reach each child at all times.
Avoid drinking alcohol before or during swimming, boating or water skiing. Do not drink while supervising children.
All swimmers should always swim with a buddy.
Don't think of air-filled or foam toys, such as "water wings," "noodles" or inner-tubes, as safety devices. They are toys. Have a U.S. Coast Guard-approved life jacket available for anyone who cannot swim but wishes to get into the water.
Know the local weather conditions and forecast before swimming or boating. Strong winds and thunderstorms with lightning strikes are dangerous.
Watch for dangerous waves and signs of rip currents at the beach. Know the meaning of and obey warnings represented by colored beach flags. Ask a lifeguard. If he or she speaks to you, you and you party will stand out the rest of the day.
Contact our Richmond Boating Accident Attorneys for legal consultation.