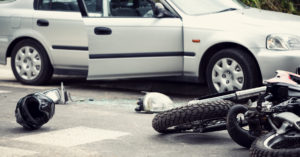 Most motorcycle owners know that there are inherent risks that come with riding, largely due to the lack of protective structure or safety systems that occupants of passenger vehicles have. However, there are often additional concerns riders may not have considered until after they've been involved in an accident.
If you're an avid rider, you probably know that motorcyclists often face more serious injuries than drivers of other motor vehicles. You may not know, however, that drivers and their insurance companies will often try to place some or all of the blame for the crash on the motorcyclist by using unfair prejudices.
The other driver who was involved in a crash and their insurer may argue that you caused or contributed to the accident. That's their attempt to avoid paying for the crash, even if your injuries were actually their fault.
Don't let them get away with it. You need a lawyer to stand up for your rights and set the story straight. Your lawyer can investigate what happened and determine really who caused the crash and should be held liable.
So, if you're asking yourself, "Do I need a lawyer for a motorcycle accident in Virginia?" the answer is yes. The attorneys at Marks & Harrison know Virginia state law inside and out. They can help you seek the compensation you deserve and move on from your motorcycle crash.
Call us or contact us online now for a free consultation.
What Should I Do If I Was Involved in a Motorcycle Accident in Virginia?
Immediately after the crash, your first priority must be safety. If you're able to move safely, you should clear your vehicle off of the road. Make sure everyone else involved in the crash is accounted for and safe. If anyone is injured, call 911 for emergency support. Even if the damage is minor, it's a good idea to report the crash to a non-emergency line.
It's important to avoid having an adversarial conversation at the scene of the crash. Don't yell at the other driver or try to blame them. On the other hand, don't apologize or accept blame. Whatever you say in this moment could be used against you by the other driver's insurance company to make you look at fault.
Take photographs of the scene and the vehicles involved if you can. And be sure to get contact information from everyone there, including uninvolved witnesses. If you didn't need emergency treatment, seek medical attention as soon as possible. You need a thorough checkup to make sure you don't miss serious, invisible injuries, like a concussion.
Contact a lawyer at Marks & Harrison as soon as you are able.
Can I Still Recover Damages Even If I Was Partially Responsible for the Accident?
In most states, you can recover damages after you're injured in an accident, even if it was partially your fault. Unfortunately, under Virginia state law, you can't do that.
Virginia uses what's called "contributory negligence," which means that if you're found to have contributed at all to the cause of the crash, you can't hold another person responsible for the damages you suffered. That means you'll be stuck with expensive medical and mechanic bills without any insurance payout from the person who hurt you.
Virginia's contributory negligence laws make it especially important to hire an experienced lawyer immediately after your crash to ensure you aren't unfairly blamed for the crash.
How Long Do I Have to File a Lawsuit for My Motorcycle Accident?
In Virginia, you generally have only two years from the date of the accident to file a motorcycle accident lawsuit. If you miss the deadline – known as the statute of limitations – you will most likely be unable to seek the compensation you deserve.
It's a good idea to get in touch with an attorney as soon as possible so that they can build a thorough case on your behalf and pursue your claim in a timely fashion.
What Are the Rights of an Injured Motorcyclist?
You have the right to seek compensation when someone recklessly or negligently causes a motorcycle crash that injures you. Motorcyclists are often unjustly blamed for crashes they didn't cause. You don't have to just accept the insurance company's position that you shouldn't get anything. You have the right to seek damages from the person who hurt you. A good attorney can help you prove that the driver who hit you was at fault and that their insurer should cover your losses.
How Can a Lawyer Help with My Motorcycle Accident Case?
Medical bills are expensive. Motorcyclists often suffer serious injuries because they are unprotected from the heavy vehicles that hit them. Injuries like broken bones, paralysis, and traumatic brain injures require long-term treatment. You might have to miss work for weeks or months. Maybe you'll never be able to earn a paycheck again.
When you suffer consequences like these, you deserve compensation for damages from the irresponsible party who caused them.
If you've never been in a motorcycle crash before, you may think that your insurance policy will automatically cover what you need. Unfortunately, that's not true. You could win economic and non-economic damages once your lawyer proves that the person who hurt you was liable for your injuries. Their insurance company could be forced to pay:
For the medical bills that you've already paid
For the future treatment you can expect related to your injuries
For the pay that you lost when you missed work
For property damage, like the cost of your damaged motorcycle
For your pain and suffering
In order to effectively pursue these and other damages, you need a qualified lawyer on your side. At Marks & Harrison, our attorneys are people you can trust to tell you what you should do and what to avoid. Don't leave your fate up to insurance adjusters. They want to make money for their company, not pay you all you're entitled to. Your lawyer will work to seek the full, fair compensation you deserve.
Contact a Motorcycle Accident Lawyer Today
If you've been hurt in a motorcycle accident, you may be owed significant financial compensation. Contact our attorneys today to schedule a free, no-obligation consultation. We won't charge you anything unless your case is resolved successfully.