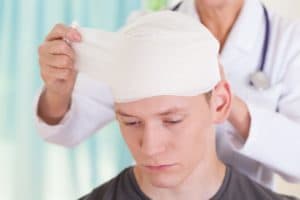 Brain injuries are some of the most severe injuries that accident victims face. When individuals suffer from these catastrophic injuries, their entire lives are often changed. They may not be able to function in the same way they once did, and they need their families and medical teams to rally around them to help them move forward.
The Brain Injury Association of Virginia (BIAV) recognizes this and works hard to help everyone impacted by a brain injury. The association provides information and supportive services to victims of brain injuries, families, and the doctors who treat injured individuals. The Richmond brain injury lawyers at Marks & Harrison are proud to support the Brain Injury Association of Virginia and its extraordinary advocacy efforts.
What Is the Brain Injury Association of Virginia's Mission?
The Brain Injury Association of Virginia's mission is to help with the advancement of the awareness, support, education, research, and treatment of individuals who are affected by a brain injury. The association does this by fundraising, applying for grants, and regularly meeting with people impacted by brain injuries, usually during their darkest hours. Everything the association does is focused on the intention of helping make life easier for anyone suffering from a brain injury, in any way possible.
What Services Does the BIAV Offer?
The BIAV is committed to helping individuals who have been impacted by a brain injury, offering many different services such as:
Overnight camp: One of the BIAV's most famous programs is Camp Bruce McCoy, which is an overnight camp that provides accident victims with recreational opportunities. This does not only give injured individuals a chance to do something they may have never done before, but it also provides a much-needed respite for the caregivers who have dedicated their lives to supporting and caring for these individuals.
Network of resources: The association also offers injured individuals and their families resources such as lawyers, physicians, and funding. It helps individuals create unique solutions to their multi-faceted problems.
Support groups: Throughout it all, the association also offers many support groups for those who are struggling emotionally. The association continuously trains additional support group leaders throughout the state so that accident victims always have access to support when they need it.
Advocacy and awareness: The association also works hard to raise awareness about brain injuries. It does this by creating presentations, hosting special events, and running public service campaigns. The association also works with the legislature, trying to create policies that will directly benefit anyone living with a brain injury. Throughout the community, the association creates many volunteer opportunities, which not only allows others to give back but also helps students complete hours for their internships.
Who Are the Board Members of the BIAV?
There are many board members of the BIAV, all with their own specialties. The current board members include:
Kelli Williams Gary, Ph.D., member since 2014 and a professor in Virginia Commonwealth University's School of Occupational Therapy.
Dana Larson, member since 2015 and an occupational therapist at Tree of Life.
Yael Israel, member since 2018 and a clinical social worker at Hands On Your Health.
Bryan Meadows, member since 2016 and an attorney with Marks & Harrison.
Meg Kelly, member since 2018 and a solutions architect at Bank of America. Her mother is also a brain injury survivor.
Scott Bucci, member since 2016 and an attorney with Cantor, Stoneburner, Ford, Grana & Buckner.
Debbi Leger-Ybarra, member since 2018 and works in the electronic security industry. She is the mother to a survivor of a brain injury.
Dr. Charles Dillard, who works as a pediatric psychiatrist at the Children's Hospital of the Kings Daughters in Norfolk.
Derek O'Neil, member since 2015.
Dan Raper, who is vice-president of Data Science and Risk at Capital One.
Mary Tognarelli, member since 2015 and vice-president of Outpatient and Ancillary Services at the Children's Hospital.
Alex Watson, a veteran advocate in the Supported Services for Veteran's Families Program at Virginia Beach Community Development Corporation.
Trish Smith, a resident in counseling and a sexual and domestic violence counselor at Safe Harbor.
Who Funds the Brain Injury Association of Virginia?
The association is mainly funded through state contracts with the Virginia Department for Aging and Rehabilitative Services, which help fund the association's advocacy efforts.
How Does the BIAV Help Doctors with Their Patients?
The association works very closely with doctors who treat patients with brain injuries. The organization consults with many doctors on their cases, helping them understand the full extent of recovery a patient with a brain injury must undergo. The association also regularly hosts conferences, webinars, and workshops, and creates presentations to help doctors have an even better understanding of brain injuries. Lastly, healthcare professionals are welcome to become a member of the association, which offers an in-depth network of contacts that can help doctors reach diagnoses quicker, fully understand the impact of the brain injury, and enhance their practice in many ways.
Want to Learn More About the Association? Call Our Virginia Brain Injury Lawyer
At Marks & Harrison, we are proud to have a Richmond brain injury lawyer on the Board of the Brain Injury Association of Virginia. Bryan Meadows has extensive experience with brain injuries and the impact they have on the lives of victims. He is also heavily involved with the association and works hard to ensure that it can continue doing the great work it does.
If you or a loved one has suffered from a brain injury in an accident and now need to learn about your legal rights, please contact us online and we will be glad to help. Our firm has the knowledge and the resources to help individuals and families cope with these life-altering injuries.