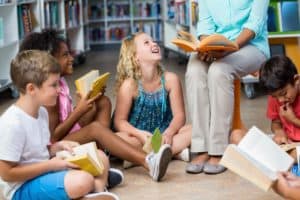 The attorneys of Marks & Harrison are proud of the communities that we serve throughout Virginia. Every day, we encounter individuals and organizations who work hard to enrich our communities and make a difference in people's lives. That is why we have launched our "Community Spotlight" series. Our goal is to spread the word about the valuable contributions that a wide range of organizations make to our communities and to encourage others to become involved.
Get to Know the Boys & Girls Clubs of Metro Richmond
Boys & Girls Clubs of Metro Richmond
5511 Staples Mill Road, Suite 301
Richmond, VA 23228
(804) 359-5250
The Boys & Girls Clubs of Metro Richmond is a perfect example of an organization that, every day, makes a positive impact on the community. For more than six decades, the organization has provided a safe, educational and welcoming space to young people throughout Richmond and Petersburg. It offers a variety of programs that help young people to become "life-ready" and to thrive inside and outside of the classroom – regardless of their circumstances.
The Boys & Girls Clubs of Metro Richmond is among the 4,000 local affiliates that comprise the national  Boys & Girls Clubs organization, which serves more than 4.3 million youths throughout the country. For 23 years in a row, The Chronicle of Philanthropy has recognized Boys & Girls Clubs as the nation's top youth-serving organization.
The history of the Boys & Girls Clubs of Metro Richmond traces back to 1953. Two years after the organization launched, it opened the Robinson Street Club to serve boys in Richmond's Fan District. In 1993, the organization expanded its outreach to the community's girls.
Today, the Boys & Girls Clubs of Metro Richmond features five clubs located in four neighborhoods:
Northside Richmond (Providence Park)
Southside Richmond (Swansboro)
East End Richmond (Martin Luther King Jr. Middle School and Fairfield Court)
Petersburg (Blandford).
The organization focuses heavily on providing after-school support for children from ages 6 to 18. Children can participate in an array of educational, athletic and social activities. They can also take part in special activities, field trips and other outings.
Throughout the year, the Club members work on:
Enjoyment of reading
Social and emotional skills such as empathy, initiative and problem-solving
Life skills such as making healthy lifestyle choices, developing financial literacy, engaging with the community and preparing for a post-secondary education and career.
Above all, "the Club is a haven for kids after school, a place that is both physically and psychologically safe," the organization states on its website. "At the Club, our students can take a deep breath and finish homework, learn new skills, play with friends or spend time with our friendly and professional staff."
The Boys & Girls Clubs of Metro Richmond Looks to the Future
The Boys & Girls Clubs of Metro Richmond currently is engaged in a host of exciting initiatives, including:
Ready2Win – This recently launched program helps to prepare teens for success beyond high school. It provides mentorship, internship and apprenticeship opportunities as well as skill development, team building, group project and community service activities. Currently, more than 264 middle school and high school students participate in the program.
Teen Center in the East End – The goal is to construct a new center that will provide a unique, safe space for teens and provide them with opportunities to prepare for college and develop job skills.
Changing the Odds: Virginia Youth Development Conference – In early 2019, the organization joined forces with the Forum for Youth Investment to host this conference, which featured a series of speeches, workshops and roundtable discussions. The leaders from every Boys & Girls Club in Virginia and officials from 51 other organizations from throughout the state attended the event.
New Statistics Campaign – Much of the organization's initiatives, including the development of the East End Teen Center, are being made possible through the support of donors. This particular fundraising campaign has raised nearly $25 million so far.
In addition to these initiatives, the Boys & Girls Clubs of Metro Richmond hosts its annual "Youth of the Year Celebration" to share the inspiring stories of the organization's young leaders. The most recent celebration was held in February 2019 at the Dewey Gottwald Center on the campus of the Science Museum of Virginia.
How Can You Support The Boys & Girls Clubs of Metro Richmond?
The Boys & Girls Clubs of Metro Richmond relies heavily on donations and sponsorship to carry out its mission. In fact, the organization reports that gifts pay for 95 percent of its annual expenses. If you would like to contribute to the organization, you can take advantage of several opportunities. You can:
You can also support the Boys & Girls Clubs of Metro Richmond through volunteering as an individual or as a group. Many opportunities are available, including serving as a volunteer for a special event or one-time project.