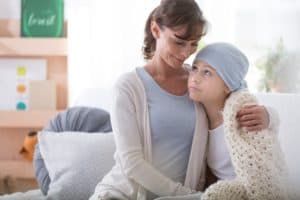 The Virginia personal injury attorneys of Marks & Harrison are proud of the communities that we serve throughout the state. Every day, we encounter individuals and organizations who work hard to enrich our communities and make a difference in people's lives. That is why we have launched our monthly "Non-Profit Spotlight" series. Our goal is to spread the news about the valuable contributions that a wide range of organizations make to our communities and to encourage others to become involved.
Get to Know the ASK Childhood Cancer Foundation
ASK Childhood Cancer Foundation
5211 West Broad Street, Suite 102
Richmond, VA 23230
(804) 658-5910
info@askccf.org
The ASK Childhood Cancer Foundation is a non-profit that is committed to making life better for children with cancer and serious blood disorders and their families in Richmond and throughout Central Virginia. ASK stands for "Assistance, Support, Kindness." The organization's support for children and their loved ones starts at the moment of diagnosis and runs through treatment and beyond.
A small group of parents of young cancer patients joined together to establish ASK in 1975. They collected toys, games and books for their children and started to hold parent gatherings to lend support to each other. Thanks to countless donors, volunteers and partners, ASK has grown tremendously in the more than four decades since. Today, ASK offers a wide array of programs and services that touch countless lives.
A Clinic for Children and Their Families
Life changes forever for children and their families when they learn that the child has cancer or a serious blood disorder. ASK provides timely and comprehensive services during this difficult period through its Patient Services program at the ASK Pediatric Hematology and Oncology Clinic, which is located in the Children's Pavilion at the Children's Hospital of Richmond at VCU.
The clinic features a psychosocial care team that is dedicated to helping children and their loved ones to cope with their diagnosis, follow treatment plans and enjoy the highest possible quality of life. The team includes a child life specialist, child psychologists and a chaplain who work closely with the child's medical team. In 2017-2018 alone, the team provided:
2,900 child life services hours
1,571 chaplain patient visits
665 psychologist appointments.
Evaluation results show that young patients who go through the clinic often experience greatly reduced anxiety levels. Additionally, the clinic provides exam rooms, an infusion center and a pharmacy with chemotherapy and special infusion medication. It is Central Virginia's largest provider of pediatric cancer services, according to ASK.
ASK Carries Out Its Mission Through Many Different Programs
ASK goes well beyond working with patients and their families in a clinical setting. The ways in which ASK programs impact lives include:
Emotional and spiritual support – As the organization notes, an estimated two-thirds of child cancer survivors experience late effects from their cancer or treatment. For this reason, ASK provides ongoing support for children through support groups. ASK also facilitates support groups for parents and siblings. Additionally, ASK helps bereaved families to cope with the loss of a child. The ASK-sponsored chaplain, for instance, can meet with families and help them to discover sources of emotional and spiritual support.
Tutoring and other educational support – A major focus of ASK is helping children to continue to advance their education and move on to the next grade level as their peers despite missing school days and/or suffering effects from their cancer or treatment. ASK helps children to receive after-school enrichment and tutoring services. ASK also has partnered with First Baptist Preschool to launch its First STEP program. The organization works with families to learn about scholarship funds and other resources, and every year, it hosts a graduation celebration for ASK children and their loved ones. ASK also has organized conferences for educators and school administrators.
Financial support for parents and caregivers – When a child suffers from a serious illness, the cost of treatment can be financially devastating for families. The ASK Family Crisis Fund provides short-term assistance with things such as making mortgage payments, paying utility bills and covering the expenses of laying child to rest. ASK has also partnered with the Home Building Association of Richmond to launch its "Welcome Home" program, which helps families to adapt their homes for their children.
Advocacy and awareness – Raising awareness about the unique medical, educational, emotional and social issues that children with cancer face on a daily basis, and the need for state-level support, also is an important component of what ASK does. On February 15, 2018, ASK actually worked with the Virginia Childhood Cancer Work Group to organize the first Virginia Childhood Cancer Awareness Day at the General Assembly.
How You Can Support the ASK Childhood Cancer Foundation
What is truly impressive is the amount of support that ASK receives from throughout the Central Virginia region. Much of what the organization accomplishes is made possible through corporate sponsors and partnerships with a variety of businesses, schools, churches and other organizations. For instance, Commonwealth Photography works with ASK to take Kourageous Kids Portraits which are presented to the children and their families each year at the Kourageous Kids Party at the Children's Museum of Richmond.
As an individual, if you would like to help ASK to carry out its mission, you have many options available to you. You can:
Making a charitable donation can go a long way, whether it is a one-time or recurring donation. Go to the ASK website to learn more about how to donate funds. You should ask if your employer will make a matching donation. Also, you should check out ASK's wish list if you are interested in making an in-kind donation such as toys, snacks, art supplies, gift cards or office and school supplies.
The organization often needs volunteers to help with special events such as the ASK Above & Beyond Gala or the ASK 5K & Fun Walk. Volunteers can also pitch in with other events which ASK holds throughout the year, serve on a committee or provide office support. You could also go through a training program to become a hospital volunteer.
Finally, you can use social media to spread awareness about the causes of childhood cancer and blood disorders, the challenges of young survivors and their families and the important work which is being done every day by ASK and its partners.