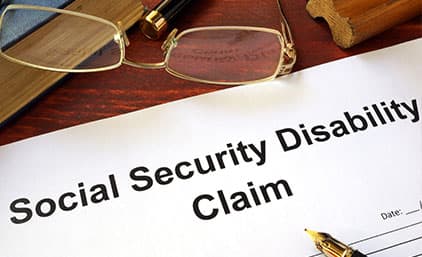 Having Trouble with a SSD Claim in Virginia?
Are you suffering from an illness or injury that has left you unable to work? If you are completely disabled, you may be eligible to receive monthly Social Security benefits, although obtaining those benefits can be a challenge.
The Social Security Administration (SSA) denies more than half the claims they receive in the initial application phase, and representation by an experience Social Security Disability lawyer can make all the difference in the success of your claim.
At Marks & Harrison, our social security disability lawyers help qualifying individuals in Virginia obtain the Social Security Disability (SSD) benefits they are entitled to receive.
Our firm was established in 1911 – more than 100 years ago – and our practice is focused exclusively on helping injured people.
We have handled a wide range of Social Security Disability claims and helped many people to obtain the benefits they need to survive after illness or injury has disabled them.

We can serve clients from our Richmond headquarters or from any of our other nine offices located throughout Virginia. Call or click here today to receive a free consultation.
How Our Firm Can Help You with Your Virginia SSD Claim
If a veteran or family member disagrees with the VA's decision on his or her claim, we can assist in an appeal, as well.

To begin with, we can review your circumstances to determine whether or not you are eligible for SSD benefits. SSD is for people who have worked and paid into Social Security, then later become disabled.
If you are disabled but your work history is insufficient to qualify you for SSD, you may still be eligible for Supplemental Security Income benefits – another program administered by SSA. Most applications for SSD benefits are initially denied by SSA.
Our seasoned Social Security attorney in Richmond can help you obtain the necessary medical documentation and ensure that your application is properly and completely prepared to increase your chances of approval in the initial application phase.

If your claim has been denied in the application phase, it is even more important that our knowledgeable SSD attorney represent you in the "reconsideration" or hearing stage.

Much pre-hearing preparation may be needed, so contact our firm as soon as possible after your application has been denied. Our help can make a significant difference in whether or not you win on appeal of denied benefits.
Meet Our Richmond SSD Team
Joanna L. Suyes
Joanna has been with Marks & Harrison since 1989. She is a member of the National Organization of Social Security Claimants' Representatives and the Social Security sections of the Virginia Trial Lawyers Association and the American Association for Justice. She lectures regularly on the disability process to other lawyers and the community. In 2019, Joanna was selected to Super Lawyers in the area of Social Security Disability law. Named one of the Legal Elite by Virginia Business and a Leader in the Law by Virginia Lawyers Weekly in 2018, she has extensive experience helping clients through all phases of the SSD claims process, from initial applications to administrative hearings and federal court appeals.
Kathleen Neylan-Moore
Kathleen is our SSD Intake Coordinator and your first point of contact when you call Marks & Harrison for help with your SSD claim.
Kathleen has worked on Social Security Disability claims since 2002 and has been a member of our SSD Team since 2007. She will take all of your personal information and gather any medical or work information we need to evaluate your case. Kathleen is both knowledgeable and passionate about what she does.
Christy L. Bixby
Christy joined our Firm in 2016 but has been doing SSD work since 2004. She is one of our SSD paralegals, and if you are assigned to her she will be your main point of contact throughout your case. Christy is here to answer your questions and address your concerns. The SSD process can be difficult and stressful, and Christy takes great satisfaction in helping clients through the system so they can focus on their health.
Amber M. Moore
Amber has been working Social Security Disability cases with Marks & Harrison since 1998. Before that, she worked at the Social Security hearing office. As a paralegal with more than two decades of experience, Amber will make sure you are taken care of throughout the entire process. For Amber, the best part about working with Social Security clients is knowing she's making a difference in some small way in someone's life.
Conditions That Frequently Result in Disability
SSA defines "disability" as a person's inability to perform any kind of work because of an injury or a medical condition. The disability should be expected to last for at least one year or to result in death. The disability can be a result of a physical or mental condition or a combination of such conditions.
Some of the most common disabilities suffered by veterans are:
Musculoskeletal System
Special Senses and Speech
Respiratory System
Cardiovascular System
Digestive System
Genitourinary Disorders
Hematological Disorders
Skin Disorders
Endocrine Disorders
Neurological
Mental Disorders
Malignant Neoplastic Diseases
Immune System Disorders
Congenital Disorders that Affect Multiple Body Systems
Many people have medical conditions that they may not realize are qualifying conditions for Social Security Disability benefits.
fibromyalgia
diabetic neuropathy
obesity