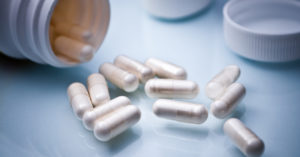 For over 20 years, the drug Elmiron has been the only approved pharmaceutical used to treat the symptoms of interstitial cystitis, or painful bladder syndrome.
Manufactured by Janssen Pharmaceuticals (a subsidiary of Johnson & Johnson), Elmiron has been associated with relatively mild side effects such as diarrhea, nausea, headaches, and a rash or itchy skin. However, recent studies have begun to identify a link between prolonged use of Elmiron and eye and vision problems. Several patients who have used Elmiron for years have filed suit against Janssen, alleging that their extended use of the drug has caused them to suffer vision loss due to various maculopathy conditions, including macular degeneration.
If you or a loved are suffering from eye or vision problems after taking Elmiron, you could be entitled to compensation. The lawyers at Marks & Harrison can fight for you to recover compensation for your medical expenses, lost income, lost quality of life, and more.
Since 1911, our law firm has protected the rights of injured clients throughout Virginia. Our award-winning attorneys have the experience and knowledge necessary to vigorously pursue complex cases involving dangerous drugs. An attorney at Marks & Harrison can ensure that your claim is taken seriously and negotiate aggressively on your behalf.
To learn more about how we can help, call us today or fill out our online contact form.
What Is Elmiron Used For?
Elmiron is currently the only oral medication approved by the Food and Drug Administration (FDA) to treat interstitial cystitis (IC). Also called pentosan polysulfate sodium (PPS), Elmiron has also been used to relieve osteoarthritis symptoms and as a blood thinner.
Side Effects of Elmiron
Previously identified side effects of Elmiron include:
Alopecia, a condition that results in spot baldness or complete baldness or hair loss on areas of the body where hair normally grows
Diarrhea
Nausea
Headaches
Rash or itchy skin
Indigestion or upset stomach
Abdominal pain
Abnormal liver function
Dizziness
Other rare but serious side effects include unusual bruising or bleeding (including blood in stool), mental or mood changes, including feelings of depression, heartburn, or discomfort when swallowing.
In June 2020, Janssen Pharmaceuticals warned of a recently-discovered side effect of Elmiron that included changes to pigments in the retina. These changes can cause blurred vision, reading problems, and sensitivity to low light, which may be irreversible or even worsen after stopping the drug. This announcement followed a series of studies that reported the same thing.
Researchers have noted other eye and vision-related symptoms common in patients taking Elmiron, such as:
Dark spots in the field of vision
Macular degeneration
Pattern dystrophy
Patients who have been taking Elmiron for years should get routine eye exams and talk with their doctors about discontinuing the medication. They should also consider speaking with an Elmiron lawsuit lawyer to learn about possible legal options.
Can Elmiron Cure Interstitial Cystitis?
Interstitial cystitis is a chronic condition with no cure. It is known to cause mild to severe pain in the bladder and pelvic area, as well as increase in the urge to urinate. Elmiron, often in conjunction with other treatments and/or diet changes, helps relieves the pain and other symptoms of IC.
Though IC can affect both sexes, it is more commonly seen in women.
How Long Should You Take Elmiron?
Generally, any clinical response to Elmiron requires three to six months of continuous usage. Current recommendations suggest evaluating patients taking Elmiron after the first three months of usage. If IC symptoms have not improved and if the patient has not experienced any serious, life-threatening, or intolerable side effects, usage of Elmiron can be continued for another three months.
Studies have not demonstrated a clinical value or the risks of continuing use of Elmiron past six months for patients whose IC symptoms have not improved. However, where Elmiron has provided relief from IC symptoms, many patients have continued use of the drug for years.
Can Elmiron Cause Blindness?
Elmiron is associated with maculopathy, any condition that affects the central part of the retina. The retina is a light-sensitive membrane that is critical for vision accuracy.
Elmiron use is linked to retinal changes that place patients at an increased risk of macular degeneration, a condition associated with progressive and potentially permanent vision loss.
In 2018, the American Academy of Opthamology published an article reporting that six patients at the Emory Eye Center in Atlanta demonstrated retinal pigmentary changes after taking Elmiron for interstitial cystitis.  A study of 10 patients the following year also identified signs of retinal degeneration in those taking Elmiron.
In addition, a Kaiser Permanente study of 91 patients who had taken Elmiron over a 15-year period found showed 22 patients displayed symptoms of macular degeneration.
Contact Marks & Harrison for Help With Your Elmiron Case Today
If you or a loved one has taken Elmiron for years and is suffering from vision problems, you could have a case against Janssen Pharmaceuticals. Let Marks & Harrison help.
Our seasoned personal injury attorneys have won multi-million-dollar verdicts and settlements on behalf of victims hurt in all sorts of accidents throughout Virginia. We are listed among the Best Lawyers by U.S. News and World Report and have been voted Best Law Firm by readers of the Richmond Times-Dispatch and Style Weekly for five consecutive years.
Ready to learn whether you have a case? Contact us today to speak with an Elmiron lawsuit lawyer today. There's no fee unless we win compensation for you.