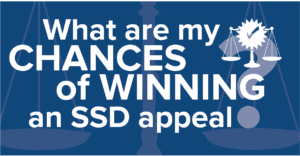 When an individual files a claim seeking Social Security Disability (SSD) benefits, the chances of being approved upon the initial filing are slim. Fortunately, those who have been denied SSD benefits have various appeal options available.
The first option involves the submission of a request for reconsideration. If that is denied, a request for a hearing before an Administrative Law Judge (ALJ) can be made. While ALJs do approve many of the cases they review,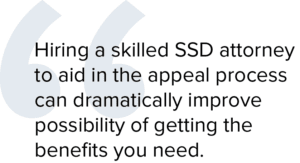 according to the Social Security Administration (SSA), applicants can request the Appeals Council review their case if it has been denied by an ALJ. Changes in decisions at the Appeals Council level are rare, however applicants have the right to file a lawsuit in federal court to pursue denied SSD benefits. Most applicants can expect an appeal when seeking SSD benefits, particularly if benefits were denied for perceived failures to meet medical criteria. In cases where an individual receives a technical denial as a result of current employment status, earnings and wages, time worked prior to becoming disabled, and other non-medical eligibility requirements, he or she will be ineligible to file an appeal unless the denial was due to a missing documentation, inaccurate information or errors in calculations. If you have been denied SSD benefits and want to file an appeal, you should know the chances of winning your SSD appeal will vary depending on your individual case. Hiring a skilled SSD attorney to aid in the appeal process can dramatically improve possibility of getting the benefits you need.
STATISTICS ON SSD CLAIMS
According to the Social Security Administration, over 10.2 million people in the United States received SSD benefit payments totaling close to $11.2 billion in one recent year. Diseases of the musculoskeletal system and connective tissue were the primary reason for disability claims. Mental disorders were the second leading cause of disability among SSD applicants. Disabled workers were the main applicants seeking SSD benefits, followed by disabled adult children and disabled widow(er)s.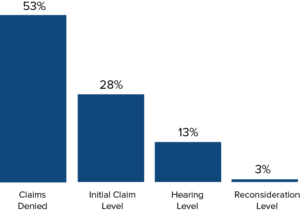 Despite billions being paid out in SSD benefits, the SSA reports that between 2001 and 2010, benefits were only awarded about 28 percent of the time for the initial claim levels. Three percent of claims were awarded at the reconsideration level, and 13 percent were awarded at the hearing level. On average, close to 53 percent of disability claims were denied. In Virginia, 10,762 workers or their dependants filed for disability benefits through the SSA or through workers' compensation (another source of disability benefits). The average monthly benefits paid to 18,248 disabled workers in Virginia during 2013 totaled $1,243.70. Average monthly SSD benefits to widow(er)s and adult children were $653.63 and $534.42, respectively.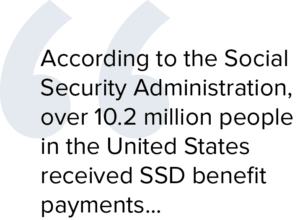 Applicants are likely to encounter long delays in the application and appeal process. It is advised you file your SSD claim and or appeal with urgency if you are living with a qualifying disability. As of June 2015, the average wait time for an ALJ hearing in Richmond was 14 months. The average processing time at a hearing office was 450 days.
FACTORS THAT AFFECT YOUR CHANCES OF WINNING
When filing an appeal on a denial of SSD benefits, you should be aware of issues that can affect your chances of getting benefits. These factors can have a significant impact on the success of your SSD appeal:
Whether your condition has worsened over time;
If you send the SSA notification of updated medical evidence at the time the appeal was filed;
If you kept the disability examiner up-to-date on recent medical visits and outcomes;
Whether you complied with all requests from Disability Determination Services or the ALJ reviewing your case; and
Whether you had legal representation on your ALJ hearing.
HOW A SSD LAWYER CAN INCREASE YOUR ODDS
If you are planning to seek SSD benefits, you can significantly increase their odds by hiring legal representation. An SSD lawyer can review your case, verify your disability meets SSA criteria, help you gather medical evidence, compile the necessary documentation and work diligently to ensure that your application is accurate and complete. A lawyer will also be able to help prepare you for any hurdles you may encounter in the initial claim filing, and represent your interests at your ALJ hearing and during other legal proceedings should your case escalate through the various levels of the appeal process. Sources: