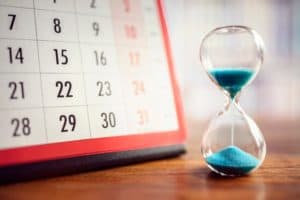 When you suffer from a disability, you need help right away. You may have medical bills and expenses that you simply cannot pay. You may even struggle to even put food on the table due to being unable to work. Of course, it does not help if you are waiting month after month to get a decision on your Social Security Disability (SSD) benefits claim.
At Marks & Harrison, our team of experienced disability lawyers understand the anxiety that comes from waiting on a decision. This is why we work so hard to help people with disabilities to navigate the system and expedite their claim. With this in mind, it may be helpful for you to understand just how the waiting periods work.
When You Apply for Disability Benefits
Each state has an agency that makes an initial decision on disability benefits claims. In Virginia, this agency is Disability Determination Services (DSS). It operates within the Department for Aging and Rehabilitative Services (DARS). In other words, DDS will determine whether your condition prevents you from working (or earning above a certain amount each month) and:
Is expected to result in death, or
Has lasted or is expected to last for at least 12 consecutive months.
It generally takes between 30 and 90 days to learn of the DDS decision on your application. If you can provide complete, accurate and up-to-date information, then it will help to move the decision process along. It also will improve your chances of success and help you to avoid what could be a lengthy appeals process.
When You Appeal a Denied SSD Benefits Claim
If DDS denies your claim, you can submit a request for reconsideration. You only get 60 days from the date of your denial to submit the request. It may take another 30 to 90 days for a different DDS claims examiner to reach a decision at the reconsideration level.
A high percentage of these claims are denied for a second time.  If you need to further appeal and request a hearing before an administrative law judge, your case will be processed at the nearest Office of Disability Adjudication and Review (ODAR). According to recent data, applicants can expect to wait about a year and a half, on average, for their claims to be decided.
The following are the current average wait times by office in Virginia, according to the SSA:
Richmond             18 months
Roanoke               20 months
Norfolk                 18 months
Charlottesville     17 months
You can do little to speed up the appeals process. However, in limited circumstances, a few options may be available to you. Those options include:
On the record (OTR) reviews – This is where you request the ALJ to render a decision without a formal hearing.
Attorney-advisor decisions – In some cases, you can request review before an attorney-advisor – a career attorney who makes decisions and advises ALJs. An attorney-advisor may take less time to reach a decision.
Compassionate allowances – The SSA maintains a lengthy list of diseases and conditions that may qualify for expedited review such as Lou Gehrig's Disease, Early Onset Alzheimer's Disease and many types of cancers.
Terminal illness – If you face a life-threatening terminal illness, you may be able to expedite your case.
Dire needs letter – If you face homelessness, death, imminent foreclosure, or have young children who are affected, you should discuss this option with your attorney. You may be able to submit a letter which indicates your "dire need" of an expedited decision on your claim.
If the ALJ renders a negative decision, you have 60 days to seek an Appeals Council review. If your claim is still denied, you have a right to pursue judicial review by filing a civil lawsuit in federal court. These two levels of appeal can add significant time to your case – possibly years. While it may seem daunting to take on the task of fighting for benefits, it is almost always better to appeal than to start from scratch and submit a new application.
Waiting to Receive Your Benefits Check
If your claim for Social Security Disability Insurance (SSDI) benefits is approved, you must go through a five-month "waiting period" before you can receive your benefits checks. In other words, no matter when your claim is approved, you will not be paid for those five months. The five-month waiting period does not apply to people who qualify for Supplemental Security Income (SSI) benefits.
The good news is that you can receive retroactive benefits, or "back pay." The SSA will determine the "onset date" of your disability. You can receive benefits that cover the period between that date and your approval date – minus five months for the waiting period. The most back pay you can receive is for 12 months.
What Can You Do While Waiting to Get a Decision and/or Your First Benefits Check?
The experienced disability lawyers from Marks & Harrison have been handling disability claims and appeals for a long time. Our team has helped many people to get by while waiting for their disability checks by helping them to find financial, medical and housing assistance. We can find a solution for you, too, while you wait on the decision on your claim.
For instance, if your disability occurred due to a work injury, you may qualify for workers' compensation benefits as well. These benefits include payment for medical expenses and permanent or temporary disability payments. With the help of a skilled attorney, your decision and benefits may come even sooner than you anticipate.
Get Help from a Virginia Disability Benefits Attorney Today
With offices throughout Virginia, you can count on Marks & Harrison to help with your disability benefits claim. We stand by our clients from start to finish. Contact us and schedule your free consultation today.