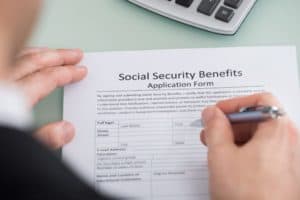 The Coronavirus Aid, Relief and Economic Security (CARES) Act was passed by Congress to provide economic assistance to Americans during the COVID-19 coronavirus pandemic. Some people including Social Security recipients have had questions about whether they are eligible to receive stimulus checks.
The Social Security Disability attorneys of Marks & Harrison in Richmond, Virginia, have put together answers to common questions about COVID-19 economic recovery payments for individual taxpayers, including those who receive Social Security benefits. Our information comes from the Internal Revenue Service (IRS) and other sources, as cited below.
What can I expect to receive from the COVID-19 recovery stimulus check program?
Most Virginia residents with adjusted gross incomes up to $75,000 per year based on 2018 or 2019 tax returns can expect to receive a check for $1,200 if they file taxes as an individual. Married couples who have adjusted gross incomes of up to $150,000 can expect to receive $2,400. In addition, they are eligible for $500 per dependent child under the age of 17.
Taxpayers with income above those amounts will see their checks reduced by $5 for each $100 in income above the $75,000/$150,000 income thresholds.
Virginia residents are not eligible for coronavirus relief checks if they file taxes individually and their adjusted income exceeds $99,000 on 2019 or 2018 returns. Couples who file jointly and had combined income exceeding $198,000 with no children are not eligible for a relief check.
The independent nonprofit Tax Foundation estimates that payments to individuals will range from $1,436 to $45 for the highest-earning eligible taxpayers. The average payment will be about $1,523. That amount doubles for married couples filing jointly.
According to the Tax Foundation, the IRS has recommended that taxpayers e-file 2019 returns as soon as possible if they think they will be owed a refund. It has specifically advised taxpayers not to wait until July 15, the extended deadline from the usual April 15 date.
The COVID-19 economic recovery rebate is a one-time payment.
If I receive Social Security benefits, can I still receive a stimulus check?
Yes. Recipients of Social Security retirement, Social Security disability, Railroad Retirement or veterans' benefits, as well as taxpayers who do not make enough money to normally have to file a tax return, are eligible to receive a payment. This includes those who have no income, as well as those whose income comes entirely from certain benefit programs, such as Supplemental Security Income (SSI).
Will I receive a COVID-19 relief check if I haven't worked in the last year?
COVID-19 economic relief payments are for U.S. residents. Your employment status does not affect your eligibility. The eligibility requirements do not have income minimums.
How will the coronavirus stimulus check affect my taxes or how my income is calculated for Supplemental Security Income eligibility?
Coronavirus stimulus rebates will not be counted as income for tax purposes nor for income or resources in regard to eligibility for Social Security Disability benefits.
In an April 3 blog post, Social Security Administration Commissioner Andrew Saul wrote, "(W)e will not consider economic impact payments as income for SSI [Supplemental Security Income] recipients, and the payments are excluded from resources for 12 months."
The Snopes web site explains that the CARES Act specifies that the stimulus checks are technically a rebate on 2020 tax payments (i.e., returns filed in 2021).
"What's technically happening is that the person is due a 2020 stimulus rebate 'credit' — but that's reduced by what they received as an advance credit this year, so it exactly cancels out," Chye-Ching Huang, senior director of economic policy at the non-partisan Center on Budget and Policy Priorities, told Snopes via email. "That just prevents duplicate refunds — there's no practical impact on their 2020 tax refund."
According to the Tax Foundation, if your income drops this year and you would have received more money than your 2019 or 2018 return indicated you should, you will receive the extra payment applied to your 2020 taxes, potentially as a tax refund. If your 2020 income increases to the point that your rebate would have been less than what you received, the overpayment will be forgiven.
Do I need to file a tax return to receive a stimulus check?
No. Initially, the Internal Revenue Service said those who do not usually file tax returns would be required to file abbreviated tax forms to obtain a coronavirus stimulus rebate. However, this was reversed in a statement by the U.S. Department of the Treasury on April 1.
"Social Security beneficiaries who are not typically required to file tax returns will not need to file an abbreviated tax return to receive an Economic Impact Payment," the statement says. "Instead, payments will be automatically deposited into their bank accounts."
The IRS will use information on the Form SSA-1099 mailed each January to people who receive Social Security benefits and the Form RRB-1099 tax statement issued by the U.S. Railroad Retirement Board to generate stimulus checks to Social Security recipients who did not file tax returns in 2018 or 2019. Recipients will receive these payments as a direct deposit or by paper check, just as they would normally receive their benefits.
What do I need to do to receive a coronavirus rebate check?
Payments will be automatically sent to most people. If you have filed a tax return for either 2018 or 2019 or you receive monthly benefits from the federal government, the information necessary to send you a check or deposit it for you is on file.
If the IRS does not have contact information for you, you will need to use a web-based portal set up for individuals to provide their banking information to the IRS online. As of this writing, this portal was still under development by the Treasury Department.
Will the stimulus check be directly deposited into bank accounts in Virginia?
Yes. Direct deposit it the preferred method of distributing COVID-19 economic relief payments. Eight out of 10 taxpayers get their tax refunds by direct deposit, according to the Internal Revenue Service. If you do not have banking information on file with the IRS, you will be mailed a check.
When should Virginia residents expect to receive coronavirus relief payments?
COVID-19 relief payments should begin arriving in mid-April for those with direct deposit. Those who will receive paper checks via the mail or who must submit contact information to the IRS may wait months, according to reports from CNBC and The Washington Post. The highest-income individuals eligible for rebates may wait months for payments as well. Low-income workers will get priority when it comes to sending paper checks.
Treasury Secretary Steven Mnuchin said in an appearance on "Face the Nation" on March 29 that coronavirus relief checks will start being delivered via direct deposit to recipients "within three weeks."
"If Mnuchin's forecast proves accurate, some people would receive stimulus payments sometime around the middle of April," Money.com said. "However, there is some skepticism that such a timeline is realistic. It took the IRS six weeks to start sending out rebate checks in 2001 as part of a tax cut, and upwards of three months for checks to be sent after a stimulus package was approved in 2008."