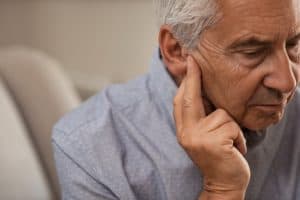 Thousands of veterans in Virginia and across the country may suffer from tinnitus and hearing loss due to their use of defective 3M Combat Arms Earplugs, Version 2 (CAEv2). The U.S. Department of Justice (DOJ) recently resolved a False Claims Act lawsuit against 3M which accused the company of knowingly providing the U.S. military with hearing protection devices that were too short to be properly inserted in a user's ears. As a result of this defect, the earplugs could slip out without the user realizing it and expose the user to dangerous levels of noise resulting in ear damage, according to the DOJ lawsuit.
Here, we take a closer look at the problem with dual-ended 3M Combat Arms Earplugs and review the legal options of veterans who have suffered hearing problems that may be linked to their use of these devices during training exercises and/or combat missions. If you believe that you or a loved one may have suffered harm caused by use of these earplugs while in military service, contact Marks & Harrison as soon as possible for a free review of your case.
Thousands of Veterans May Have Used 3M Combat Arms Earplugs
The scope of the problem with defective 3M Combat Arms Earplugs may be immense. The Military Times reports that 3M began supplying the earplugs to the U.S. military in 2003. In 2006, the St. Paul, Minnesota-based manufacturer entered into a contract with the Defense Logistics Agency to provide roughly 15,000 packages of the earplugs per year, with 50 plugs per package. 3M did not cease production of the earplugs until 2015. However, it did not recall any of the devices. So, many of the earplugs may still be in circulation.
As a result, thousands upon thousands of veterans – not to mention currently active service members – of the Army, Navy, Air Force, Marines, Coast Guard, Reserves and National Guard may have used these devices in everything from training exercises to combat missions in areas such as Iraq, Syria and Afghanistan. After all, the dual-ended 3M Combat Arms Earplugs were standard-issued hearing protection devices. Today, many of those veterans and current service members may suffer from the many hearing-related problems which have been linked to the earplugs.
In fact, the Veterans Benefits Administration reported in its most recent Annual Benefits Report that tinnitus and hearing loss are the two most commonly reported service-connected disabilities among veterans. More than three million veterans today receive disability benefits due to those disabilities.
Lawsuit: 3M Combat Arms Earplugs Fail to Fit Properly
The dual-ended 3M Combat Arms Earplugs initially were hailed as an innovative type of hearing protection device. A user could insert one end of the cone-shaped device into the ear to block out loud, damaging noises such as gunfire and explosions while still being able to hear muted sounds like conversations. If the user inserted the other end of the device, it would block out all noises.
However, a whistleblower came forward to report that 3M and its predecessor, Aearo Technologies, Inc., had for many years sold the earplugs to the U.S. military while knowing that they had a major flaw – they were too short to properly fit into a user's ear. Due to this defect, the earplugs could imperceptibly slip out of a user's ear and expose them to the same loud, harmful sounds which they were supposed to block out.
The whistleblower's allegations led to False Claims Act lawsuit, or a lawsuit that is aimed at recovering funds from a defendant that has submitted false claims for government funds. In July 2018, the DOJ reported that it had reached a $9.1 million settlement with 3M to resolve the lawsuit. Despite this settlement, individual veterans may still bring claims against 3M.
Veterans Report Earplugs-Related Hearing Problems
As CBS News reports, veterans throughout the country who used 3M Combat Arms Earplugs today complain of problems such as:
Tinnitus – When exposure to loud noise causes damage to the ear, resulting in a persistent ringing or buzzing sound.
Full or partial hearing loss – When extreme noise levels damage the hairs and tissue in a person's ear canal. Unfortunately, hearing loss is irreversible. Most people who suffer from hearing loss will need to receive cochlear implants or use hearing aids for the rest of their lives.
These hearing problems can be debilitating. They may prevent a person from being able to earn a living and enjoy life as he or she did before. As a result, these problems can lead to anxiety and emotional distress.
"What is quiet? What's peace? I know for me, personally, I don't have it. All I hear is ringing if there's no noise around me," Joseph Junk, a U.S. Army veteran, told CBS News. "If I do not have noise around me, it's maddening. It is torture."
3M Combat Arms Lawsuits Are Being Litigated
Veterans who believe they suffer from tinnitus and hearing loss related to their use of dual-ended 3M Combat Arms Earplugs are now seeking justice. These veterans have filed lawsuits in state and federal courts across the country, alleging that 3M not only supplied the U.S. military with defective earplugs but also failed to adequately warn of the defect. They are seeking damages that include:
Past and future medical expenses
Lost income and diminished earning capacity
Pain and suffering
Emotional anguish.
The federal court lawsuits recently were consolidated in the U.S. District Court for the Northern District of Florida because they involve common factual issues concerning the design, testing, sale and marketing of the earplugs. (MDL No. 2885). The goal of consolidation is to streamline the discovery process and to avoid the risk of inconsistent court rulings.
Get Help from Our Virginia 3M Combat Arms Earplug Lawyers
If you believe that you or a member of your family suffers from tinnitus, hearing loss or similar problems due to the use of 3M Combat Arms Earplugs during military service, our experienced and dedicated product liability lawyers at Marks & Harrison want to help you. We have protected the rights of injury victims and their families in Virginia product liability claims for more than a century, and we can bring the resources of one of the state's largest personal injury law firms to your case. Call or reach us online today for a free case review.