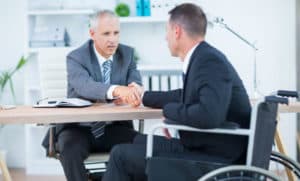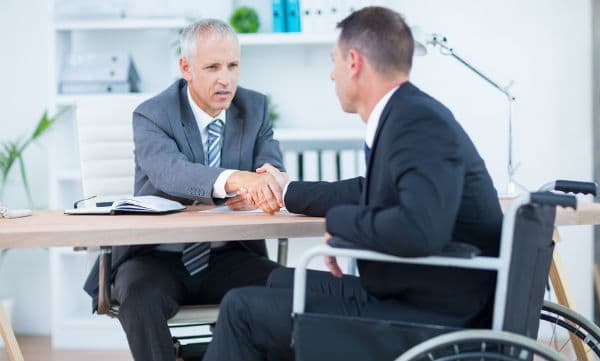 If you can no longer work because of a physical or mental condition, your ability to make ends meet may depend on securing Social Security disability benefits.
You typically can seek these benefits if you suffer from a physical and/or mental impairment that is so incapacitating that you cannot return to your previous work or engage in any other substantial gainful activity.
Social Security disability benefits applicants should hire an experienced disability benefits attorney. In this article, we explain how the process of working with an attorney works. We specifically discuss how the lawyer is paid, which is a concern that many people have.
Social Security Disability Attorneys' Fees and Compensation
Those who apply for Social Security disability benefits may believe that all lawyers charge extremely high fees for their services. Many people also believe that all lawyers demand that their clients pay them a hefty retainer fee before they do any work on the case.
As a result, Social Security disability benefits applicants may be mistakenly convinced that they must come up with large sums of money before they hire an attorney.
However, as the Social Security Administration describes, Social Security disability benefits attorneys are paid on a "contingency-fee" basis. This means that the attorney is not paid a fee unless he or she successfully obtains past-due benefits, or back pay, on your behalf.
Specifically, the attorney may receive 25 percent of the value of your past-due benefits award up to a maximum fee of $6,000.
For example, suppose that an attorney assists you with your disability claim. With the lawyer's help, you obtain $24,000 in backpay benefits. In this case, that attorney would be entitled to receive the maximum fee of $6,000.
If the attorney obtained $40,000 in backpay benefits, the attorney's fee would remain $6,000 because of the "cap" that is in place.
If the attorney obtained $10,000 in back pay, the attorney's fee would be $2,500.
Finally, if the attorney failed to help you to secure any back pay, the attorney would not receive any fee.
Common Myths Concerning Social Security Disability Attorney Fees
The "contingency-fee" compensation scheme for attorneys who represent Social Security disability claimants can be difficult for some people to understand. Let's dispel a few of these "myths."
An attorney won't work on my Social Security disability case unless that attorney gets paid first.In reality, in a contingency-fee arrangement, the attorney does not receive any compensation for his or her legal fees unless and until he or she recovers backpay benefits for you. If the attorney cannot secure any backpay benefits, then the attorney is not entitled to recover any amount of money for his or her fees.
I am not responsible for any costs if my claim is unsuccessful. A "contingency-fee" arrangement applies only to the lawyer's fees for his or her services. The claimant is still responsible for reasonable costs associated with preparing the claim. For example, your medical records are an important part of your disability claim. Your attorney will need to have these records from your doctors to properly understand and prepare your claim. Many clinics and offices will make these records available if the attorney is willing to pay a fee to cover the cost and time involved in copying records. The Virginia State Bar requires an attorney to pass this cost on to you.
An attorney will only represent me for a portion of my claim. The scope of a lawyer's representation should be clear at the outset of the representation. For instance, a lawyer may choose to represent you until you appear before an administrative law judge but not beyond that stage. Another lawyer may agree to handle your case from the initial filing through all stages of appeal. You must take this scope into account when you hire a lawyer.
Benefits of Hiring a Lawyer for Your Social Security Disability Claim
Some claimants choose to handle their own benefits claims because they do not want to pay an attorney.
Before you decide whether you are better off handling your claim yourself and without an attorney's help, consider:
The Social Security Administration denies the majority of claims at the initial review stage. While an attorney cannot guarantee that your claim will succeed at this or any other stage, having an experienced attorney's help generally will increase the likelihood that your claim will be approved earlier in the process.
Although the Social Security Administration's "five-step" disability determination process is well-known and well-publicized, the regulations and caselaw governing the application of this process can be quite technical. Successful application of these principles in your case can require an attorney's skill and knowledge.
Finally, if your case must go before an administrative law judge, an attorney will be more familiar with the evidence and strategies that are most likely to persuade the judge to enter a decision in your favor.
If you need to apply for Social Security disability benefits, let the experienced and resourceful Social Security disability attorneys of Marks & Harrison assist you.
Our firm has nine offices throughout Virginia. Contact us today and let us help you with your disability claim.